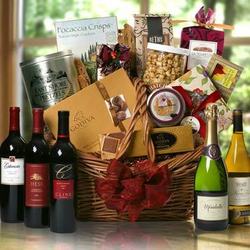 We have experienced enormous growth since the 2005 holiday season
Allen, TX (PRWEB) October 16, 2007
The Gift Basket Pros (http://www.pro-gift-baskets.com ) is proud to announce the company has added a new line to its extensive product offering, now with more than 1,100 Holiday Gift Baskets.
"We have experienced enormous growth since the 2005 holiday season," says David McNaught, Marketing Director for The Gift Basket Pros. "Based on customer requests in 2006, we have added more than 500 new holiday gift baskets for the upcoming 2007 Christmas season. Our holiday selection includes gifts for personal gift-giving and for business-to-business thank you appreciation for customers and clients. In addition to large order discounts, our everyday prices are structured to fit any budget whether it's a small business or large corporation."
The Gift Basket Pros offers an extensive selection of Thanksgiving and Christmas Gift Baskets filled with fresh holiday goodies. Gourmet food gift baskets include a variety of delectable items, including cheeses, salsas, mustards, nuts, smoked salmon, pretzels, cookies, candy and more. Customers can also order brand name baskets from Godiva, Ghirardelli, Mrs. Fields, and Starbucks.
The Gift Basket Pros also specializes in Corporate Gift Baskets. Whether it's for favorite corporate clients, to seal a deal or just to say thank you, some of the hand-selected offerings include fruit baskets, chocolate gifts and wine baskets at a variety of price levels.
In addition, The Gift Basket Pros also offers Business Gift Services. The program serves a multitude of purposes: building customer relations, boosting employee morale, welcoming new hires, fueling motivation or just showing appreciation. The Gift Basket Pros can tailor gift management services for small business or large corporations, and anywhere in between.
Benefits include:

Discounts on orders over $500.00 up to 20% off
Employee Discount Program on personal orders
Dedicated Account Representative for selecting business-appropriate gifts to fit any budget
Managed services including excel order form entry and overseeing entire gift delivery process
About The Gift Basket Pros
The Gift Basket Pros (TGBP) established its online presence in 2004 after a growing demand for high quality gifts and gift baskets for business-to-business and personal gift giving. The company prides itself in superior customer service and a vast selection of gifts for any budget. Among TGBP's current clients are high profile Fortune 500 companies such as PepsiCo, Prudential, and Microsoft. For more information, please visit http://www.pro-gift-baskets.com/about-us.aspx.
Contact:
David McNaught
The Gift Basket Pros Marketing Director
Toll Free: 866.690.8427
Direct: 972.359.1291
###