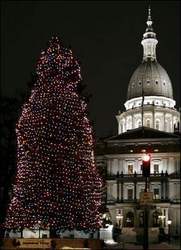 (Vocus) September 20, 2007
A more cost-effective and environmentally friendly solution to traditional incandescent holiday lighting is now available, says newly launched LED Christmas light company HolidayLEDs.com. Light emitting diode, or LED, holiday lighting is now widely available and currently is used by over ½ of the states for their holiday displays. LEDs use between 90 and 99 percent less energy than standard incandescent lights and have a useful life of over 50,000 hours. LEDs are also preferred because they can be safely used in close proximity to combustible materials because they operate at only 1 degree above room temperature. Additionally, the LED light is nearly indestructible because it is encased in solid plastic and does not contain a fragile filament or a glass bulb.
HolidayLEDs.com, located in Jackson, Michigan, specializes in energy-efficient LED Christmas lights and is offering the state of Michigan an opportunity for a greener Christmas. In order to encourage the state of Michigan to make the switch to LED holiday lights, HolidayLEDS.com , is offering to replace the state's C9 incandescent lights with comparable LED lights at the same price it currently pays for incandescent lights. Each year the Christmas tree which adorns the lawn of the state capital building in Lansing is decorated with over 5,000 C9 style incandescent Christmas lights. These C9 style bulbs consume 7 watts of electricity per bulb and will last only one holiday season. During the 45-day period during which the capital tree is illuminated it will consume approximately 37,800 kilowatt hours of electricity and cost the state over $3,000. After the holiday season is over the state will take the tree down and place the tree, along with its 5000 incandescent lights and wiring in a commercial shredder.
If the state of Michigan replaced its current C9 incandescent lights with energy efficient LED Christmas lights it would consume only 389 kilowatt hours of electricity which would cost only $30.00. This would save the state nearly $3,000.00 each year in electricity costs alone. Perhaps more importantly, the LED lights could be used for several years so the state would not have to continue its environmentally irresponsible practice of shredding the lights each year. The ability to reuse the lights would also save the state approximately $2200 annually. Based on the state's current usage, the new LED lights could last for as many as 50 holiday seasons.
The LED lights offered by HolidayLEDS.com are currently used on the national holiday tree on the Capital lawn in Washington, D.C. and Rockefeller Center in New York City. HolidayLEDs.com offers its LED Christmas lights through its website at http://www.holidayleds.com.
For further information please contact:
Philip C. Curtis or Michael J. O'Connor
517-745-1217 or 517-879-0497
# # #