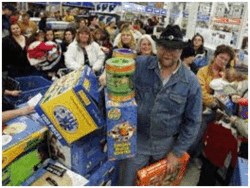 the best point of sale marketing will most likely capture the most prospective customers
Libertyville, IL (PRWEB) December 06, 2012
LED Display Signs reports that despite a small 1.8% drop in Black Friday sales, Moneyweb forecasts an overall increase of 10% in holiday retail sales for the 2012 season. Many retailers are expected to capitalize on the 3.5% increase in foot traffic by displaying holiday specials with programmable moving LED displays, and subsequently reaching prospective customers at the point of sale.
Given the still sluggish economy and the uncertainty tied to the infamous fiscal cliff controversy, consumers are more inclined than ever to seek out the best bargains. Point of sale advertising with highly conspicuous moving LED messages is proving to be an effective way to boost sales. As stated earlier, statistics show a 3.5% increase in foot traffic at malls and retail locations. This means that shoppers are out in force, but are seeking the best bang for their buck. Point of sale advertising through lighted and moving LED displays allows retailers to bring holiday specials to the attention of shoppers when they're ready to buy.
As with all sales, retail and otherwise, timing is critical to making a sale. Presenting a prospective customer with a bargain at the time they are ready to buy is the best way to make a sale. Even if the overall sales for the season do not reach expectations, the retailers with the best point of sale marketing will most likely capture the most prospective customers when they're out shopping. To learn more about point of sale programmable LED message displays visit http://www.led-display-signs.com.