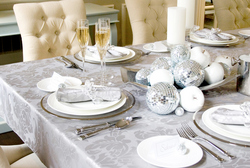 With consumers looking to stretch their dollar without sacrificing enjoyment, the family dining table is becoming the undisputed centerpiece for holiday gatherings
New York, NY (PRWEB) October 1, 2009
TrendexHome.com™, the fashion-forward designer and distributor of premium table linens, welcomes America's families home for the holidays with 25% off savings on all merchandise at http://www.TrendexHome.com through December 5, 2009. TrendexHome.com is the fashion-forward destination for in-home table settings offering nearly 250 styles of tablecloths, napkins, and napkin rings to suit every holiday theme, taste and budget. To receive the discount, shoppers must enter the code HOLIDAY during the checkout process.
Research from Information Resources, Inc. (IRI) indicates that more Americans will celebrate at home this holiday season. According to IRI, more than 90 percent will get together with family and friends over the dinner table and at holiday parties. Nearly 75 percent plan to eat their holiday meals at home, while half say they will dine at friends' homes. In-home holiday celebrations are a cost-cutting strategy for consumers who indicate they will spend the same or less on holiday meals this year.
"With consumers looking to stretch their dollar without sacrificing enjoyment, the family dining table is becoming the undisputed centerpiece for holiday gatherings," says Sabrina Bordo, president of TrendexHome.com. "As we continue to focus on pairing value and quality with style throughout the year, we are pleased to extend this special holiday savings to help our customers enjoy truly memorable celebrations with family and friends."
TrendexHome.com offers a collection of fashionably elegant table linen styles and colors. Each tablecloth can be paired with matching runners, napkins and napkin rings that together create an impressive, coordinated look. For those in need of inspiration, TrendexHome.com offers pre-coordinated entertaining sets in a variety of sizes and place settings.
About TrendexHome.com:
TrendexHome.com is the premier destination for superior quality, fashion-forward table linens and accessories. With 250 pattern and color combinations, TrendexHome.com elevates the dining experience to create a truly memorable event. Whatever the occasion, Trendex Home's vast and distinctive selection of fabrics and colors ensures that customers find the right furnishings to create a coordinated setting in harmony with their décor. For more information visit http://www.TrendexHome.com.
###