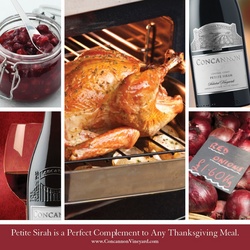 Concannon Vineyard has specialized in Petite Sirah for over 45 years, since we introduced the first varietally labeled wine in 1964, and we now make several different Petite Sirahs to fit different taste and wallet profiles
(Vocus) October 28, 2009
2009 Seasonal Celebrations --Petite Sirah is a versatile varietal for many foods, but it shines at holiday time. Rich, full-bodied and made from choice California grapes, its velvety supple flavor provides the perfect accompaniment for the savory special dishes of the season.
"Concannon Vineyard has specialized in Petite Sirah for over 45 years, since we introduced the first varietally labeled wine in 1964, and we now make several different Petite Sirahs to fit different taste and wallet profiles," stated Jim Concannon, third generation vintner. "For 'the more-the-merrier bring your favorite dish' gathering, there's the 2007 Selected Vineyards Petite Sirah, a real value at just $10 per bottle. For a joyful table of family gathered around, the perfect choice is the celebratory 2006 Reserve Petite Sirah at $38 per bottle. And then, for your first holiday meal together as a couple or for a special dinner with a few dear old friends, make a memorable impression with our 2004 Heritage Petite Sirah, a $50 per bottle treasure. You can even place your order online now at Concannon to make sure you have a bottle of Concannon Petite Sirah for every holiday event on your calendar," continued Concannon.
Of course, your family expects a traditional holiday meal. But, you yearn for the fun and challenge of cooking up something a little different and adventurous. Why not do both? Prepare the traditional meal of time-honored favorites your family loves, but this time, give tradition a tasty timely tweak.
Here are some recipes to help you discover that traditional doesn't have to mean predictable. We've taken holiday menu classics and recharged them with a few fresh new ingredients. Try these delectable subtle flavors that add to but don't overpower the familiar ones and take your holiday dinner from being a good meal to a great one.
The heart of any holiday meal is the bird - a glorious mountain of crackling golden skin encasing savory juices and tender meat. Brining the turkey - soaking it in a salty bath overnight - continues to be a popular way to boost both flavor and tenderness. But we've added a twist - citrus twist. Fresh wedges of lemon and orange add to the brine permeate the turkey with a subtle tangy taste and tantalizing fragrance that amps up the luscious poultry flavors.
Cranberry relish gets a new taste makeover - and powerful antioxidant boost - with the addition of a splash of Concannon Petite Sirah wine and a half cup of fresh blueberries mingled with the cranberries. The delicate sweetness of the blueberries helps tone down the cranberries' tartness in a beautiful glistening tapestry of rich jewel colors.
For a sensational savory side, try the caramelized onion and gruyere tart - a Concannon family favorite. Fresh Bermuda onions caramelized in butter to a golden brown blend with cream, eggs and heavenly gruyere. Fresh nutmeg and thyme send the flavor to the stratosphere plus scent the table with robust spicy holiday aromas.
Instead of the same old white wine, surprise your guests with a dramatic sensational red, Petite Sirah. Concannon Vineyard's 2006 Reserve Petite Sirah is an intense wine with vibrant berry fruits and a full palate. The wine starts with attractive aromas of ripe berries, creamy oak and a touch of spice. Hints of toasty oak and vanilla enrich the palate. The wine's full body is complemented by a firm and balanced structure. And the finish is lasting and memorable, just like the holiday meal itself.
A founding family of California wine, Concannon is the oldest continuously operating winery in the state, with four generations of family leadership. Concannon introduced America's first varietally labeled Petite Sirah in 1964, sparking a love affair with this varietal, and led with the introduction of Cabernet Sauvignon clones 7, 8 and 11 in replanting much of Napa Valley in the 1970s. As we enter our 126th harvest, Concannon continues to lead the California wine industry in preserving an agricultural way of life by protecting vineyards from urban development with our new Conservancy wines. Concannon wines are available nationally where fine wines are sold and at http://www.ConcannonVineyard.com (where legal).
CARAMELIZED WINE AND ONION TART
Prep Time: 20 minutes
Yields one 9-inch tart or 6 individual 4¼ inch mini tarts. Either option should be a fluted pan with a removable bottom. (Note: you may use store bought pastry or your own favorite pastry recipe.)
INGREDIENTS
4 tablespoons butter
2 tablespoons olive oil
3 cups yellow onions, sliced thin
3 tablespoons fresh chopped parsley
½ cup Concannon Petite Sirah
4 teaspoons fresh thyme, stems
removed and chopped
6 ounces prosciutto, chopped
1 cup gruyere cheese, grated
1 egg, beaten
1 sheet prepared pastry, thawed
salt and pepper to taste
DIRECTIONS
In a large skillet, melt the butter and oil on medium high heat. Add the onions, thyme, parsley, salt and pepper to taste. Sauté on low heat for 30 minutes until golden brown and velvety soft. Add the wine and cook an additional 10 minutes until the liquid has evaporated.
Cut the pastry to fit the fluted pans. Press the pastry on the bottom and against the sides. Poke holes on the bottom of shell and on the sides. Brush the borders of the tarts with the egg and assemble the prosciutto on the bottom of the tart. Add the gruyere cheese (evenly if using individual tarts) and top with the caramelized onions. Bake until golden at 350 degrees, about 20 minutes.
CRANBERRY AND BLUEBERRY RELISH
Prep Time: 5 Minutes
Active Time: 10 Minutes
Inactive Time: Refrigerate for 4 hours
Yields approximately 2 cups
INGREDIENTS
12 ounce package fresh cranberries
½ cup fresh or frozen blueberries
1 cup granulated sugar
½ cup honey
¼ cup Concannon Petite Sirah
1 tablespoon grated orange zest
⅓ cup orange juice
DIRECTIONS
Combine all ingredients in a saucepan. Cook over medium heat until the berries have popped (approximately 10 minutes). Skim any foam from the surface and combine all ingredients in a saucepan. Cook over medium heat until the berries have popped (approximately 10 minutes). Skim any foam from the surface and discard. Cool to room temperature. Cover and refrigerate for at least 4 hours.
This relish can be served cold or hot.
Recipes developed by:
Janet Ruttenberg, Chef/Culinary Instructor
###