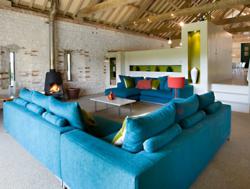 Tasty Holiday Cottages will provide the 'quality filter' that Google lacks...
London, UK (PRWEB) June 28, 2012
Tasty Holiday Cottages UK are delighted to announce the release of their new site, bringing the very best UK Holiday Cottages under one roof.
Tasty Holiday Cottages UK has one aim - to provide the very best self catering holiday cottages in the UK & Ireland. The Company plans to grow incrementally, and slowly, only adding new holiday homes that meet the highest quality standards.
Currently the Tasty Holiday Cottages collection is organised by category, such as Pet Friendly Cottages, Eco Friendly Cottages, Large Groups accommodation etc., but as more properties are added, will also include facilities for searching for cottages by town and region.
What differentiates Tasty Holiday Cottages from other cottage rental directories is that inclusion on the site will be by invitation only - so it will not list holiday cottages simply on the basis that they have the largest marketing budget, or because their owners make the most noise. Quality will be assessed both in terms of the actual accommodation itself, as well as in terms of the service provided by the owner, based on customer feedback and reviews.
But is there really any need for holiday rentals directories when people can just search on Google?
Ian Locke from Tasty Holiday Cottages believes there is:
"The UK Holiday Cottages market is both diverse and very large - so if you type 'holiday cottages UK' into Google, at the time of writing, it will bring back around 15 million search results. The problem is that the order in which these results are displayed has no correlation with the quality of the accommodation, which is where Tasty Holiday Cottages comes in - we will provide the 'quality filter' that Google lacks."
A property which illustrates this quality approach is The Great East Barn, in North Barsham on the North Norfolk Coast. This luxury holiday cottage has been formed from the conversion of a 19th Century granary with an eye on style and space, to create a simply stunning holiday home. Extremely well-equipped, it has seven ensuite bedrooms to accommodate up to 14 people - the perfect getaway for families or groups of friends.
For more details of this property and other quality self catering holiday homes in the United Kingdom, visit Tasty Holiday Cottages UK. If you know of a holiday cottage that you feel we ought to include, please contact us at marketing[at]tastyholidaycottages[dot]co[dot]uk.