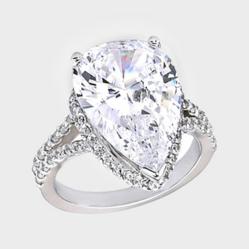 In 2011 we have helped more customers find and design holiday gifts than ever before—a trend which we hope to see continue.
New York, NY (PRWEB) November 22, 2011
Birkat Elyon, esteemed cubic zirconia jewelry manufacturer, is reporting a spike in sales as more and more consumers recognize cubic zirconia jewelry as the perfect 2011 holiday gift.
Having recently celebrated their 25th anniversary, the jewelers at Birkate Elyon are excited to make this holiday shopping season the best on record. Recognized the world over as one of the top designers and manufactures of fine cz jewelry, Birkate Elyon adheres to an unparalleled standard of excellence. Using only the highest quality Russian formula to create each stone, Birkat Elyon cubic zirconia has a purity level 99.9%. Hand cut and polished with precision Birkat Elyon stone exudes the brilliance of fine diamonds.
The current state of the economy has forced many consumers to cut back in recent years. This shift in consumer behavior has negatively impacted many industries and fostered growth in others. The cubic zirconia industry is one that has experienced resurgence. As more and more consumers look for ways to maintain a comfortable lifestyle, while saving money, cz has gained in popularity. The beauty and elegance of cubic zirconia gives the look of fine gemstones and diamonds at a price most consumers can afford.
Birkat Elyon jewelry is set in 14K gold, 18K gold or platinum, ensuring the quality and durability of each piece. Offering colored cubic zironia stones, Birkat Elyon jewelry not only includes simulated diamonds but synthetic gemstones as well. From synthetic sapphires to rubies, the Birkat Elyon collection includes designs and styles that are sure to dazzle this holiday season.
"We are so excited to see the cubic zirconia industry thrive, and we are so proud to be a part of it," said Rebecca Daniel, Senior Designer and Sales Director at Birkat Elyon in New York. "In 2011 we have helped more customers find and design holiday gifts than ever before—a trend which we hope to see continue."
The Birkat Elyon collection includes bracelets, necklaces, pendants, brooches and earrings adorned with the finest cz and simulated pearls available. From cz cocktail rings to synthetic sapphire pendants to simulated yellow diamond earrings, Birkat Elyon has the perfect holiday gift for any jewelry lover. Backed by the Birkat Elyon Quality Guarantee, each piece is created to last a lifetime.
The 2011 holiday season is proving to be one of the very best in Birkate Elyon's long history. With so many new and repeat customers purchasing jewelry as gifts this holiday season, the jewelers at Birkate Elyon are encouraging shoppers to complete their orders as soon as possible. As the holiday season comes to a close, Birkat Elyon has plans to introduce even more new styles in 2012. Watch for these, and other exciting announcements, throughout the coming years as Birkat Elyon continues to expand their exquisite product catalog. To learn more about Birkat Elyon holiday gift ideas, visit them online at http://www.birkatelyon.com or call 877.777.8352 to speak to a one of their talented jewelers.
About Birkat Elyon:
Birkat Elyon is an online luxury cubic zirconia jewelry manufacturer, specializing in 14K gold, 18K gold and platinum designs. Birkat Elyon has more than 20 years of CZ jewelry expertise. Located on Park Avenue in New York City, Birkat Elyon offers free wedding jewelry consultations for the selection of readymade designs, as well as for custom-made jewelry.
###