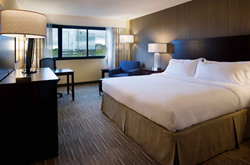 The Colony, TX (PRWEB) May 12, 2016
Holiday Inn Plano - The Colony will open on May 20th and begin accepting reservations from May 27th onward, it was announced today by Jason Durham, General Manager. The property is owned by Western International and managed by Texas Western Hospitality.
The Colony is located in Denton County and is a suburb of Dallas, just minutes from Sam Rayburn Tollway, Interstate 35 and the Dallas North Tollway.
The non-smoking, 122-room hotel features a wide variety of amenities including spacious king and double queen rooms, mini-refrigerators, microwaves, and free Wi-Fi, plus a full-service restaurant and bar, room service, 24-hour market, outdoor pool, state-of-the-art fitness center, well-equipped business center, and over 1,300 square feet of flexible meeting space.
Rates at the new hotel will start from $119 on weekends and from $159 on week days.
The Holiday Inn Plano - The Colony is less than 20 miles from DFW Airport on Highway 121, and Plano is just 3 miles away. Top companies like Toyota, FedEx and Liberty Mutual are a short drive away while the Stonebriar Mall is nearby. Families traveling to The Colony will appreciate the close proximity to the area's top attractions including Hawaiian Falls Waterpark, TopGolf (both are just a short walk away), and Lake Lewisville. Additionally, the Nebraska Furniture Mart, America's largest home furnishings store, is less than one mile in The Colony's Grandscape, which features over 400 acres and a wide variety of retail, entertainment and dining options.
For additional information, visit http://www.holidayinn.com/colonytx or call (469) 384-8165.
About Texas Western Hospitality
Texas Western Hospitality is the management arm of Western International, a vertically integrated lodging company with over 30 years of successful history in hotel development and operations. Headquartered in Dallas, Texas, Texas Western Hospitality (TWH) proudly manages several of the finest brands including Marriott and Hilton. TWH has grown to become one of the most respected lodging management companies in the U.S. that currently operates 35 hotels in four states. Visit http://www.twhospitality.com for more information.
About the Holiday Inn® Brand
The Holiday Inn® brand, which offers more than 1,220 hotels and resorts worldwide, has helped millions of travelers discover the joy of travel since its inception in 1952. Designed to meet the needs of both business and leisure travelers, Holiday Inn hotels deliver memorable experiences through warm and welcoming service, contemporary design that blends the familiar with the new, and a sense of comfort unique to the brand and its iconic green sign. At Holiday Inn hotels, guests can find amenities to help them work and play, including full-service restaurants where Kids Eat Free, meeting and business facilities, bright swimming pools and comfortable lounges all designed to help guests relax and refresh, making travel more enjoyable for all. For more information about the Holiday Inn brand, visit http://www.holidayinn.com or call 1-888-HOLIDAY. Find us on Twitter http://www.twitter.com/holidayinn or Facebook http://www.Facebook.com/holidayinnhotels.