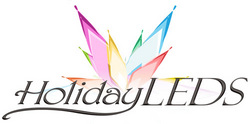 The free light give away is a lot of fun and last year it was a great success but this year we have also planned a company event to celebrate Earth Day
Jackson, MI (Vocus) April 21, 2009
HolidayLEDs.com, an e-commerce retailer of energy-efficient LED decorative lighting, is giving away free LED Christmas lights for Earth Day for the second year in a row. Beginning on April 22, 2009 at 10 a.m. EST HolidayLEDs.com will give away 1 free set of solar powered LED Christmas lights to the first 60 visitors.
"Last year we celebrated Earth Day by giving away free LED icicle lights but we decided we could go one better and give away solar powered LEDs for this year's celebration," said Nathan Munro of HolidayLEDs.com. The free light sets are a 200 light LED Christmas light set that operates entirely from solar power. Because the super-efficient LEDs draw so little power they can operate using a very small solar panel. Only 60 sets are available and will be given away on a first-come, first-served basis. No purchase is required but participants must pay a shipping charge of $7.99. The solar LED Christmas lights retail for $49.99. In addition to the free solar lights, HolidayLEDs.com is offering 25% off all of its LED lighting products.
"The free light give away is a lot of fun and last year it was a great success but this year we have also planned a company event to celebrate Earth Day," explained Munro. HolidayLEDs.com purchased 100 white pine seedlings from Porcupine Hollow Farm and will plant them in celebration of Earth Day. "We all talked about what we wanted to do as a company for Earth Day and planting trees seemed like a bit of a cliché' but it really does make a difference for the environment," Munro added.
HolidayLEDs.com also operates a Christmas light recycling program from October through February of each year. Participants who recycle there lights receive a coupon for 15% off HolidayLEDs.com LED Christmas lights. HolidayLEDs.com will reopen its recycling program for Earth Day from April 22 to April 29, 2009. The program will resume again on October 1, 2009.
For more information about HolidayLEDs.com, the light give away, or recycling program please visit http://www.holidayleds.com.
###