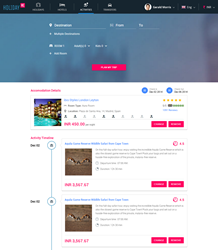 The website also offers in-depth travel guides for destinations across the world, ensuring that the user has proper information of the destination
Dubai, Middle East (PRWEB) December 11, 2014
Breaking away from the clutter of conventional travel portals offering monotonous, archaic, holiday packages, HolidayMe provides a new lease of life into the travel market with its unique on-the-fly customization of holiday packages and ensures that the traveller has his wishes and dreams fulfilled. And all of this is just a few clicks away!
The Dubai-based travel start-up aims to simplify your holiday by offering on-the-go customized travel options and giving the user the ability to design holiday packages or book standalone hotels, sightseeing, activities and transfers for destinations all over the world. The website offers over 100,000 hotels and over 8,000 activities to choose from. It also has airport pick up and drop facility across 300 cities globally.
HolidayMe Co-Founder & CEO Geet Bhalla says that they're currently targeting the Middle East market, after which they would be expanding globally.
"Saudi Arabia and UAE is a $15 billion outbound travel market, with a clear demand for customized holiday experiences. The market has seen a sudden exponential increase in e-commerce and online activities, placing HolidayMe in a prime position to capture the market at this stage," says Geet.
The website also offers in-depth travel guides for destinations across the world, ensuring that the user has proper information of the destination, so that he can make informed choices when it comes to planning holiday.
Co-founder & Managing Director, Digvijay Pratap pitches in by saying, "We have massive plans for the immediate future. The Arabic version of the website is set to be launched soon, making it all the more easier for people from the Middle East to book their holidays. Multi-destination holiday packages and flights options are also in the pipeline, adding to the website's inventory".
The next time you plan to take a vacation, give the travel agents a skip and go holidaying with HolidayMe.
About HolidayMe - HolidayMe a Dubai based start-up, through its unique user-experience platform allows the customer to do on-the-fly customization of holiday packages or choose from curated readymade itineraries from hundreds of worldwide destinations. The start-up intends at giving the control in the hands of the customers by allowing them to pick holiday packages and customize them based on their personal choices from a wide inventory of over 1,00,000 hotels, 8,000 sightseeing activities and airport pick-up and drop facility across 300 cities globally.