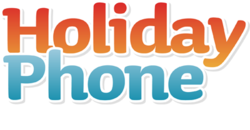 A typical American tourist saves $447.09 using a HolidayPhone SIM card in Spain, compared to AT&Ts lowest rates for roaming abroad
(PRWEB) May 15, 2012
As summer travel season approaches, many tourists will return home unaware of the phone bill waiting for them for roaming with their US cell phone abroad.
HolidayPhone is a temporary prepaid SIM card for travelers. The consumer is reached on his regular US cell phone number, yet the user can make calls and use Internet from abroad as cheap as at home. Once back home again the consumer retains the US carrier. With our unique concept, a traveler can save $1000 or more in roaming charges.
Example:
A HolidayPhone Spain package for the fixed price of $49.90 includes:
3 hours receiving calls on the consumer's ordinary US number - while being in Spain.
2 hours making calls to US landlines
1000MB Mobile internet data usage in Spain.
Compared to AT&Ts optional World Traveler plan, the calls above would cost $297.00 and even using the Data Global Add-On plan, the data cost would be $199.99 for the first 800MB and $19.50/MB above that. That makes the total cost $496.99 compared to $49.90 using the HolidayPhone prepaid SIM card for Spain.
Since HolidayPhone uses a local prepaid Spain SIM card, it's very easy to use and requires no technical skills. The consumer doesn't need to download any apps and makes calls to the USA just the usual way. There are no additional fees and no fees are charged retrospectively.
A common understanding is that just not opening the web browser in the phone while abroad, will keep you out of trouble. However, since the boom of smartphones, such statement is no longer true. Many applications installed in smartphones use the mobile internet connection without notifying the user. Often these services together consume 2-3MB data/day, or more.
With many US carriers charging around $20/MB for data roaming abroad, it's not difficult to get a phone bill for background data roaming exceeding $500 - without even knowing it.
How HolidayPhone is different from other solutions such as Skype
The biggest difference is that HolidayPhone provides a mobile internet connection abroad - while VOIP solutions require it. Without a mobile internet plan abroad or WIFI access, VOIP solutions won't work. That way, for tech savvy travelers, HolidayPhone can be used as the provider of the data network that the VOIP solutions require. But with the HolidayPhone international call rates being so low, most customers just call as usual without the hassle using complementary VOIP services.
Another advantage is that with HolidayPhone, calls are made just the ordinary way, without any applications or other technical things. The HolidayPhone users can use the phone just as from home - but much cheaper compared to roaming with their US carrier.
Other popular products for this summer are the HolidayPhone prepaid SIM card for UK and HolidayPhone prepaid SIM card for Mexico.
The company was founded in Sweden during 2010 and has during 2011 expanded with sales in Europe to Scandinavia, Germany and the UK. HolidayPhone currently works for 17 popular tourist destinations (countries).
To read more about how HolidayPhone saves money for travelers, please visit our website: holidayphone.com