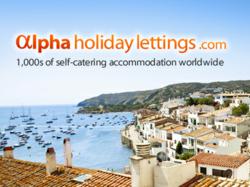 Advertise on a holiday rental website is one of the most effective ways to generate rental income. For instance, listing your property on AlphaHolidayLettings.com costs only £69 per year.
(PRWEB UK) 24 September 2012
If you are not already doing so, renting out your holiday home could be a nice earner if done correctly. However, for property owners looking to let out their holiday homes for the first time, the prospects could be quite daunting. Prepared by one of the UK's top holiday rentals websites AlphaHolidayLettings.com, we have a list of essential advice on how to get your holiday villa, cottage or apartment ready for your first guests.
1. Furnish your home – Invest in decent quality furniture, sofas, beds, etc. Make sure the kitchen is properly furnished for self-catering holidays purpose and include cooker, microwave, fridge freezer and enough cutlery and crockery for all guests. It is advisable to provide extra beddings and towels, which will also speed up changeover. Display a hint of personal touch when decorating your home but avoid over-doing it.
2. Do inventory checks – It is essential to do an inventory check before the start of each stay. Leave a checklist inside the property to help your guests make sure everything is in the right order before they leave. Providing a feedback form will give you invaluable information on what to improve.
3. Work out the right price – A good starting point would be to research a holiday rental website and check how much other comparable holiday lettings in your area are priced at. Depending on facilities, standard and location of your property, it is possible to charge a higher rate if it is very well furnished or has a good location such as near to the beach or points of interest. Offering discounts such as early bird or last minute deals could help generating bookings especially for shoulder / off-peak weeks.
4. Cover your expenses – Renting out your holiday home is a business, so make sure you make a profit or at least break even. Apart from the usual running costs, utility bills, management fees and mortgage payments if applicable, don't forget to take into account other costs such as advertising, repairs & maintenance and insurance.
5. Marketing your holiday home – One option is to use a holiday rentals agency who will advertise and manage the property for you. This is a one-stop solution but usually means higher charges and commission. Another very popular option is to advertise holiday let online with a holiday rentals website. For an annual fee, you get a web listing from which enquiries are sent directly to you. You are responsible for dealing with enquiries and bookings, which also gives you the opportunity to screen potential guests before accepting a booking.
One of the best advertising deals comes from AlphaHolidayLettings.com, a Standard Advert costs only £69 per year. They are currently offering extra 6 months of advertising free of charge to all new advertisers. If you are looking for something more and would like to have your own website created, they also offer a Premium Listing for £99 per year (normally £189), which also includes a fully functional standalone website (view example) with a domain name of your choice. For more details visit AlphaHolidayLettings.com
6. Dealing with enquiries – Respond to enquiries as soon as you can, as holiday makers are likely to have made several enquiries at the same time. Reply even if you do not have availability as guests might be flexible with dates. Telephone the enquirer if possible, this is the best way to get your message across and build confidence, at the same time allowing you to get a picture of your potential guests.
7. Taking payments – Cheques and bank transfer are widely accepted methods of payment. With the popularity of online banking, bank transfer is straight forward, could save you lots of hassle and the transaction is traceable. When accepting cheques, make sure you allow plenty of time for the cheque to clear before the stay. Being able to pay by credit card is an attractive option for some guests, and it usually comes with some level of protection by card issuers. You are able to take credit card payments by setting up your own merchant facility or by using PayPal.
8. Sign a contract – A rental contract is essential in laying out what you and your guests are responsible for and entitled to. It is important to get a signed contract from your guests before the holiday lettings stay. It also gives your guests confidence in dealing with you.
9. Maintenance and cleaning – You should be able to find an array of local management agencies that would take care of the handling of keys, cleaning and maintenance of the property for you. If this is not available, asking your neighbours to greet your guests and do changeovers for a small fee is another option.
10. Security & insurance – Make sure your holiday villa or holiday apartment is secured when empty, and ask your guest to be vigilant during the stay. Your neighbours or management agent are the best people to do regular checks. Also consider purchasing insurance that cover home and contents, as well as public liability against any potential injury claims from guests.
For more information and resources on holiday rentals, visit AlphaHolidayLettings.com