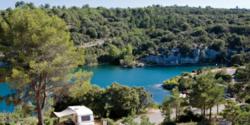 There is immense hunger out there to try new destinations...
(PRWEB UK) 5 March 2012
Goodridge reveals 'Last year's hidden gems list was hugely popular on our website, with an average of 1 in 3 visitors viewing the list. This year's list, like last year does not include any campsites that appear in UK operators' brochures or websites, but are nevertheless well regarded in their country.
Goodridge goes on to say 'There is immense hunger out there to try new destinations and I use the opportunity I have when I travel through France to visit different places and bring back my experiences.'
The full Top 10 holidays in France hidden gems can be found on the I Spy Camping website.
Criteria used to determine a hidden gem includes the possibility of catering for families who want to stay in a mobile home, as well as offering pitches for those who have their own tent, caravan or motorhome. The list also ensures that each site has good swimming pool and sports facilities, quality services for those hiring pitches, as well as the all-important ingredient - a stunning location.
Amongst the 2012 list are 4 campsites from the Cote d'Azur and Provence, Goodridge explains why 'This area is still hugely popular with British families and I wanted to give them different alternatives to explore. The sites I chose are within close distance to the famous resorts but enables them to step back from the hustle and bustle and experience a different aspect of life in the south'.
Other regions covered by the list include campsites in Brittany, Aquitaine, Midi-Pyrenees and Haute Savoie (Alps). For more information about camping destinations across Europe, please visit ispycamping.com
About I Spy Camping -
I Spy Camping is the European family holiday specialist, making it easy to find and compare more than 100,000 holidays at more than 650 campsites in France, Spain, Italy, Portugal and Croatia. It is the only website to bring together the UK's leading camping operators with French and Dutch companies including Village Center, Vagues Oceanes and Mistercamp who are easily available to UK families for the first time. Well-known brands including Eurocamp, Selectcamp, Keycamp and Canvas are also available. The company launched in November 2010 and was shortlisted for a Travolution Travel Pioneer award in its first year.
###