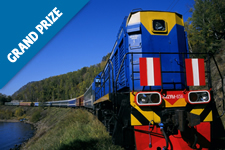 With prizes including tickets on the luxury Trans-Siberian Express and a trip to Norway to see the Northern Lights, we're expecting some exciting entries.
London, UK (PRWEB UK) 8 June 2013
Leading tailor-made holidays company, WEXAS Travel is excited to be hosting a series of three travel photography competitions supported by the Royal Photographic Society; the theme of the first competition is 'People & Culture', with the overall prize of a luxury trip for two on the Golden Eagle Trans-Siberian Express.
Judged by photographer and explorer Robin Hanbury-Tenison, the Royal Photographic Society and Amy Sohanpaul, the editor of Traveller magazine, the winner of the people & culture category will receive a smart, retro-styled 16 megapixel Olympus E-PL5 camera. They will also be automatically put forward at the end of the year, along with top entries from the two subsequent categories, to win the grand prize: a luxury Trans-Siberian Express trip for two, including return flights from London, 1 night in Moscow, 12 nights on board the Golden Eagle and 1 night in Vladivostock, courtesy of Golden Eagle and British Airways.
The Golden Eagle Trans-Siberian Express travels across the vast expanses of Russia and Mongolia, travelling 6,000 miles, one third of the way around the world, from Moscow, over the Urals, across the Russian steppes, along the shore of the world's deepest lake, down into Mongolia and then east to Vladivostock, where this once in a lifetime journey concludes.
Furthermore, the overall runner-up will win the chance to experience one of the world's great natural spectacles with a trip to Norway to witness the Northern Lights, courtesy of Radisson Blu, Lyngen Lodge and Norwegian, which will include a Northern Lights photography course.
WEXAS was established more than 40 years ago and is endorsed by Honorary Presidents such as Sir Ranulph Fiennes, John Simpson and Michael Palin. The company offers tailor-made travel to the UK's discerning and adventurous travellers. The team of destination specialists have first-hand, in-depth knowledge of their areas of expertise and offer outstanding personal service whilst creating a bespoke itinerary based around your personal interests.
The competitions are open to amateur photographers only, who may enter up to three photographs per category; photographs must be taken outside of the UK. Entries for the people & culture competition must be received before midnight 30 June 2013. So start uploading!