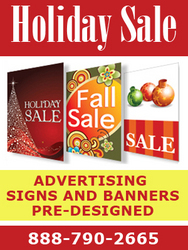 Glendale, California (Vocus) September 27, 2010
This holiday season Digital Pre-Press Services is excited to announce that they will offer discounts on holiday sale signs and advertising banners in the form of a coupon code which can be used on the site DPSbanners.com for both pre-designed banners and pre-designed window poster signs. These two product categories are the most sought after items for holiday advertising in the retail and trade industry.
Those looking to save on pre designed banners and window poster signs can use the coupon code "Holiday2010". This coupon code will give 10% off the items described above and will be good through December 4, 2010. With such a discount, retail stores and vendors can maximize profits earned through holiday sales and promotions.
Offering true value and quality to its customers is what Digital Pre-Press Services prides itself on. Customers can feel confidant and comfortable making online purchases through the site due to DPSbanners.com having more than 14 years behind them and a bright future ahead of them. It is a name that is highly praised in the advertising industry which is a result of superior customer service and providing the utmost detail in design and end product. Moreover, the site is tested daily through a trusted and world renowned security company, McAfee SECURE, to ensure each and every transaction is held up to the highest security.
Using the coupon code is simple and can be applied during the second page of the checkout process. On the second page, toward the bottom, customers can enter the "Holiday2010" coupon code into the "Coupon or Discount Number" box and press "Apply". A conformation will show up next to the box which states that the coupon code was applied successfully.
Celebrate more profits this holiday season with the help of DPSbanners.com savings on important advertising tools such as pre designed banners and pre designed window poster signs.
For additional information and details on specific selections, please visit http://www.dpsbanners.com.
About Digital Pre-Press Services, Inc.:
Founded in 1996, Digital Pre-Press Services is visible online at DPSBanners.com. The company, located in Glendale, California, provides simple, affordable and professionally designed banners that can be personalized and customized exclusively online. Through the site, DPS has a wide array of products including banner stands, window clings, car magnets, retractable banner stands, sidewalk signs, pre-designed banners and more.
Contact:
Digital Pre-Press Services, Inc.
Toll Free (888) 790-2665
Local (818) 240-2004
Fax (818) 240-3456
http://www.dpsbanners.com
###