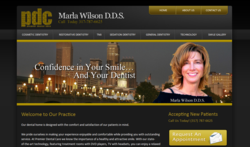 I focus on the individual goals and comfort of each patient to provide a unique, personalized experience while caring for their health and their smile.
Indianapolis, IN (Vocus/PRWEB) February 08, 2011
At Premier Dental Care, Indianapolis cosmetic dentist Dr. Marla Wilson and her team provide cutting-edge holistic dentistry treatment that integrates the best of traditional and alternative methods to enhance the overall oral health of their patients. By employing a whole-body approach, Dr. Wilson says her practice is also able to reduce the impact of dentistry with environmentally-conscious dental technology, which is an important element in the holistic health of the body as well. Whether designing custom porcelain dental veneers or replacing a patient's old fillings with mercury-free fillings, Dr. Wilson says the top priority for her and her staff is to focus on developing and incorporating new approaches that are biocompatible and less-invasive to improve patient comfort.
Dr. Wilson specializes in a variety of dental procedures, ranging from dental implants to porcelain dental veneers. However, when considering the overall holistic health of each patient, she says there are several key principals that must be considered. First, to provide optimum oral health with respect to the whole-body approach – meaning teeth and gums are free of infection, cavities, and worn-out, leaking fillings – she suggests that patients be tested to determine which restorative materials and dental products will be most suitable for their bodies. Next, Dr. Wilson must consider the stability of a patient's teeth, gums, and jaw to ensure the mouth is fully-functional and comfortable. And finally, as a cosmetic dentist, Dr. Wilson says she concentrates on the overall oral health of her patients, which is an essential component to creating a beautiful smile to support her patient's confidence and self-esteem.
While the holistic dentistry approach incorporates a number of cosmetic dentistry procedures, such as employing tooth colored fillings, Dr. Wilson says green dentistry is equally important to the oral health of her patients. She says that by using tooth colored ceramic filings, she avoids the use of potentially harmful materials like those in mercury or amalgam fillings. Another important part of the whole-earth approach Premier Dental Care currently employs is digital imaging technology instead of traditional x-rays. Dr. Wilson says their patients are exposed to 90% less radiation, and the use of digital technology eliminates the need for toxic film development solutions and lead packaging commonly associated with x-rays.
As Premier Dental Care in Indianapolis continues to refine its holistic and green dentistry methods, Dr. Wilson says she is proud to offer her patients an alternative dental experience because of the caring, patient-centric environment that is created. She adds that sheand her staff are dedicated to making each visit a positive, anxiety-free experience whether providing a subtle cosmetic enhancement or a complete smile makeover. "I focus on the individual goals and comfort of each patient to provide a unique, personalized experience while caring for their health and their smile."
About Dr. Wilson
Dr. Marla Wilson earned her medical degree from the Indiana University School of Dentistry. She then completed cosmetic and neuromuscular training at the Las Vegas Institute for Advanced Dental Studies, as well as aesthetic training with the Rosenthal Institute and the Nash Institute. Dr. Wilson is a member of the American Academy of Cosmetic Dentistry, the International Academy of Oral Medicine and Toxicology, and the Dental Organization of Conscious Sedation.
Premier Dental Care is located at 6920 S. East St. Ste. A, in Indianapolis, IN 46227, and can be reached at (317) 787-6625, or found online at either http://www.smilesbymarla.com/ or the Premier Dental Care – Marla K. Wilson DDS Facebook page.
###