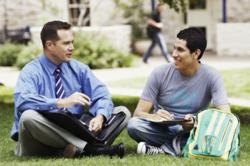 "To be successful, students need to choose a college major environment that encourages and rewards them." Lawrence K. Jones, Ph.D., NCC
Portland, OR (PRWEB) October 26, 2011
Career Key®'s new college major environment website articles give students, adults returning to school, and educators practical advice on choosing the best majors for their personality. Research based on the respected Holland's Theory shows that professors teaching in a college major create an environment that encourages or discourages students choosing that major. This match affects students' grades and likelihood of graduating. Career Key, http://www.careerkey.org, is the first to show individuals how to benefit from this research.
Three new self-help articles have been added to the "Choosing a College Major" section of Career Key's website:
In "Personality-College Major Match, Why it is important" students learn why matching their Holland personality to a college major can affect the grades they earn, their graduating on time, and career success. Four steps are recommended for making a good match.
"The Holland College Major Environments," describes the six college major environments and how they are created. Students explore the environments to identify the one most compatible with their personality and goals.
"Learn More about College Major Environments" lists five questions students should ask themselves about a possible major, with recommended activities for answering those questions and learning more about the major.
Nationally recognized counseling psychologist, Dr. Lawrence K. Jones, NCC wrote these articles to publicize this relatively recent, unknown, important research and to help college students choose a college major in which they are most likely to succeed.
"Choosing a college major is one of the most important decisions students will make," says Dr. Jones. "To be successful, students need to choose a college major environment that encourages and rewards them. Understanding Holland's Theory and how a student's personality fits with professors and students in the major is crucial to making a good major choice."
A free white paper detailing the research and recommendations for academic advisors, counselors and other professionals in helping individuals choose a good major, will be published soon.
About The Career Key®
Since 1997, Career Key has been the #1 Internet source for helping people choose careers and college majors. Advertising and registration-free, it offers a valid career test, information, and advice articles based on the best practices and science in the field.
###