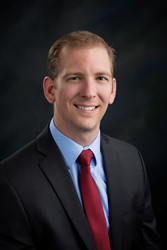 ...the results can be life-changing for patients.
BOISE, Id (PRWEB) November 10, 2016
Eye surgeon Dr. Ryan Barrett of Hollingshead Eye Center in Boise, ID, now offers corneal crosslinking as the first and only FDA-approved treatment for patients with keratoconus, a condition that can be difficult to correct with glasses and contacts and can result in significant visual impairment if untreated.
Keratoconus is an eye condition in which the typically dome-shaped cornea progressively thins and weakens. This weakening allows the cornea to change shape, often bulging and becoming cone-like, which may result in blurry or distorted vision and increased light sensitivity. Keratoconus is a part of a broader group of corneal-thinning conditions called corneal ectasia. Corneal ectasia conditions may be inherited, develop spontaneously, or be caused by repeated rubbing of the eyes.
"Corneal crosslinking is really the first therapeutic treatment that has been rigorously tested and approved for keratoconus," says Dr. Barrett. "It's a minimally invasive procedure designed to stop the progression of this disease and similar conditions. While it can't reverse the distortion of the cornea, it locks the cornea into its current shape and helps prevent the disease from worsening to the point where a more invasive corneal transplant may be needed; this is why early evaluation is critical. I had the chance to treat patients with corneal crosslinking as part of the FDA trials and the results can be life-changing for patients. I'm so pleased to now be able to provide this treatment for our patients here in the Treasure Valley."
During this procedure, drops of riboflavin solution (a form of vitamin-B2) are applied to the cornea, followed by a small amount of UVA light. This process strengthens and stabilizes the weakened links bonding the corneal fibers together, helping preserve vision quality.
Dr. Mark Hollingshead, also of Hollingshead Eye Center, is just as eager as his colleague to offer a next-generation treatment option for the disease affecting so many of his patients. "Keratoconus is the most common form of corneal dystrophy in the U.S.," he says, "We're always tracking and evaluating the advancements circulating in eye care, looking for innovations like this one that offer proven results. It's very exciting to be able to provide an effective solution for a problem that affects such a larger portion of our patient family, and to be able to do it right here at our Boise office."
To learn more about corneal crosslinking with Dr. Barrett at Hollingshead Eye Center, call (208) 336-8700 or watch the crosslinking video at HollingsheadEyeCenter.com.
HOLLINGSHEAD EYE CENTER
Eye surgeon Dr. Mark Hollingshead has been part of the Boise community in Idaho's Treasure Valley for more than 20 years. With the addition of highly trained eye surgeon Dr. Ryan Barrett in 2016, the Hollingshead Eye Center team offers patients an even wider range of state-of-the-art medical and surgical vision services than ever before, from LASIK laser vision correction to state-of-the-art cataract surgery, and now, corneal crosslinking.