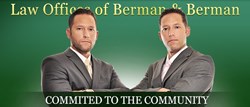 Hollywood, FL (PRWEB) June 19, 2013
The Law Offices of Berman and Berman now offer personal injury and accident consultations in Hollywood, Florida. They specialize as Hollywood, Florida, car accident attorneys and injury lawyers. They can assist clients with various types of cases in Florida, including but not limited to personal injury, car accident, motorcycle wrecks, truck accidents as well as, defective products, and drug injuries.
The Berman Law Firm is proud to announce that they are now serving the Hollywood, Florida area. The dedicated Florida car accident attorneys are committed to the community and will fight diligently for their client's rights. While utilizing aggressive techniques to deliver justice for their clients, they maintain a repertoire of compassionate legal counsel for their clients, representing the people, not the powerful.
At Berman and Berman, the attorneys strive to get their clients the best results possible. If a settlement cannot be reached, then they are prepared to take the case to trial. Dedicated personal injury lawyers believe in helping victims of any type of inadvertence pursue financial restitution from the party who caused them harm. Utilizing years of experience and in-depth knowledge of this area of the law, the Berman Law Group is dedicated to protecting the rights and interests of those who have sustained pain and suffering at the hands of a careless party in Hollywood, as well as throughout the state of Florida.
Personal injury law is made up of a number of situations in which unsuspecting and innocent people are forced to suffer losses and unfair injuries. At the Law Offices of Berman and Berman, the attorneys have devoted themselves and their practice to maintaining the rights and interests of those who have been harmed by the negligence of others.
To get in contact with the Law Offices of Berman and Berman they can be contacted at 1-(877) 529-8995 or by visiting their website found at http://lawyerinjuryaccident.com/. They are available 24 hours a day via email, phone, or live chat on their website. For help on any type of injury lawsuit in Florida, contact the Berman Law Group today.