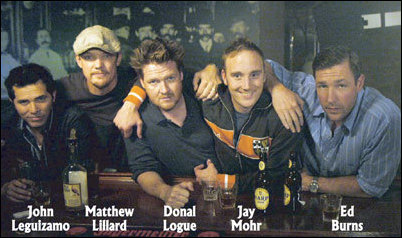 Hollywood Speaks Out with Dan Cox
Beverly Hills, CA (PRWEB) July 7, 2006
Beverly Hills People a lifestyle web publication dealing with entertainment, dining, travel, autos, and real estate, announces that Ed Burns and John Leguizamo will headline the next installment of "Hollywood Speaks Out with Dan Cox" presented by The Learning Annex, Los Angeles.
Burns and Leguizamo will be on hand, Monday, July 10 from 7-10 p.m. at a special film sneak preview of "The Groomsmen" to be followed by an audience Q&A with the stars of the film, including Donal Logue and Matthew Lillard.
Those seeking to join the audience for this event may contact the registration office of the Learning Annex or at 310-478-6677 or visit the Learning Annex website.
"The Groomsmen" follows a groom and his four attendants as they wrestle with friendship and maturity. In one week's time, Paulie (Ed Burns) will marry his beautiful and pregnant fiancée, Sue (Brittany Murphy). In this last week of extended adolescence with brother Jimbo (Donal Logue), Cousin Mike (Jay Mohr), Dez (Matthew Lillard) and T.C. (John Leguizamo) – Paulie fears he's about to lose some vital part of who he is.
Edward Burns (Paulie) is a continuing tour de force as an actor, writer, director for The Brothers McMullen, No Looking Back, Sidewalks of New York and the upcoming Looking For Kitty and Purple Violets.
Also starring are Brittany Murphy, John Leguizamo, Jay Mohr, Donal Logue and Matthew Lillard in the highly-anticipated Bauer-Martinez release of the film.
These guests will be joined by Celebrity Journalist, Dan Cox, former Film Editor and Columnist for Variety / Weekly Variety.
Beverly Hills People is the most popular news website in Beverly Hills and keeps you up-to-date on entertainment, celebrity news, fashion, and world-famous Beverly Hills restaurants.
Location of the Learning Annex event will be given after you register.
TO ENROLL:
Go to http://www.learningannex.com and go to the Los Angeles classes. Or, call 310-478-6677.
Date: Monday, July 10, 2006
Time: 7:00 PM- 10:00PM
Location: Hollywood
Special Price: $19.99
Note: Learning Annex registration fee applies for non-members. Become a VIP member for 1 year for only $29.99. Benefits include: no registration fees, exclusive discounts, free magazine delivery and more.
# # #