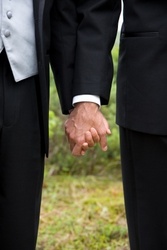 Wham Bam Thank you Maam
West Hollywood, California (PRWEB) June 14, 2008
TheHollywoodChapel.com opens its doors so Runaway Brides do not have to run so far anymore. California residents save gas, time, and money by getting married in West Hollywood, California versus running off to a Las Vegas Wedding Chapel. You can still choose Elvis to perform your ceremony or create a perfect Southern California Beach Wedding; says Hollywood Wedding Planner, entrepreneur and co-owner Lorelei Starbuck.
Convenience meets class meets acceptance meets creativity - whether it's a traditional bride/groom wedding ceremony or a gay or lesbian wedding ceremony, same-sex couples are welcomed with open arms at the Hollywood Chapel. They state that they can do it all "Hollywood style" and there's no need for that midnight ride to a Las Vegas Wedding Chapel.
When asked for the motivation behind their innovative ideas, co-owner, artist, and entrepreneur Michelle Gold responds, "Our goal at The Hollywood Chapel is to offer couples the ease and affordability of a Vegas wedding without the drive, expense or tacky silk flowers."
Affordable wedding packages seem to be key focus and were obviously developed by someone with a great sense of humor - "Wham Bam Thank you Maam" or the "Now or Never" elopement packages at Los Angeles' Hollywood Chapel are stealing the show. These "quickie weddings" advertise - "Presto You're Married" for a bargain rate of just $175 or $375 to 'elope' in California.
With California gas prices increasing rapidly, staying close to home can amount to quite a savings. Just this last month alone, California's average gas price for regular gasoline rose 50 cents; according to AAA and went as high as $4.77 per gallon in North Hollywood.
The Chapel's creative wedding planners also offer "Tie the Knot", "Why Knot" and "Tattoo I do", the last of which involves the bride and groom, or rather wedding couple, having their rings done as tattoos, with the ceremony being held in a tattoo parlor.
"Wish Upon a Star" is a new theme duly created in celebration of the California Supreme Court's landmark decision legalizing same-sex marriages. This Hollywood Wedding Chapel believes that love and marriage are universal, and know no race or gender restriction. The Chapel offers all its' wedding services to bride and groom and bride and bride or groom and groom - from traditional weddings to gay weddings to lesbian weddings - The Hollywood Chapel, in West Hollywood, is one of the first of its kind to accommodate everyone.
TheHollywoodchapel.com allows the engaged couple to apply for their marriage license online, research the perfect wedding package and reserve their wedding date online. However, they do not perform online weddings at this time.
When asked to describe what the Chapel looks like, it became obvious that this was a venture of love as Michelle Gold dreamingly replied "Think... a chapel in Venice Italy, Faux walls, chandeliers, wooden church benches and an outdoor Zen Garden Chapel complete with twinkle lights, wooden chairs, bramble arch. Yes, you are going to love it."
About TheHollywoodChapel.com:
The Hollywood Chapel was created by Reverend Lorelei Starbuck and Michelle Gold in June 2008 to celebrate the joy of marriage and equality. Rev.Lorelei is a non-denominational minister and entrepreneur who has performed hundreds of wedding ceremonies in California. She has been happily married for 32 years to her high school sweetheart and has two grown sons, and a 5-year-old granddaughter.
Michelle Gold is an entrepreneur and an artist and co-owner of thehollywoodchapel.com. As a professional photographer, Michelle has seen every kind of wedding and knows that it can be done wonderfully, yet still affordably. She is proud of being a part of history in the making with The Hollywood Chapel.
Both Ms. Gold and Rev. Lorelei are key contributors to the new Hollywood Chapel Blog (http://thehollywoodchapel.com/blog) which introduces compelling marriage and wedding discussion topics and encourages readers to subscribe and give feedback.
###