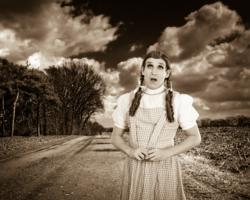 Wigs, Wit and Eyelashes-
THE EVENING WAS MADE FOR FUN!
-New York Times
New York, NY (PRWEB) May 31, 2012
The new one-man musical funfest Fabulous Divas of Hollywood starring and created by Alan Palmer.
The creative team behind the hit off-Broadway musical Fabulous Divas of Broadway are at it again bringing the New York premiere of their new show FABULOUS DIVAS OF HOLLYWOOD to the Roy Arias Theatre (300 West 43rd Street) for four performances beginning Friday, June 15th. Writer/Creator ALAN PALMER has outdone himself with this audacious tribute to Hollywood films and the delightful divas that starred in them.
This outlandish, outrageous and out and out fun-filled show parodies some of the biggest and best that Hollywood has to offer. With fast paced changes of beautiful costumes, wigs, thematic projections and a bevy of satirical songs, Alan Palmer's impressions remind us why we all love to go to the movies and adore the leading women who star in them.
Beyond mimicry, beyond drag, ALAN PALMER'S FABULOUS DIVAS OF HOLLYWOOD is both reverent and irreverent. A loving and hysterical tribute to the Prima Performers of Hollywood, it's a must for all lovers of film!
His cast of 22 characterizations include Cher, Meryl Streep, Audrey Hepburn, Bette Davis, Joan Crawford, Judy Garland, Liza Minnelli, plus a few surprises.
Written and staged by Alan Palmer, the production features projection design by Rich Brown, and costume design by Curtis Jerome.
The performance schedule for FABULOUS DIVAS OF HOLLYWOOD: June 15, 16, 22, 23 at 8:00 PM (RT:70 mins) At the Roy Arias Theatre, 300 W. 43rd (Between 8th & 9th). $40 ticket includes two drinks and may be purchased through Smart Tix at http://www.smarttix.com or in person at the box office.
http://www.divasofhollywood.com
Full press kits & photos available upon request
BIOGRAPHY
ALAN PALMER (Performer/Author/Director: Originated the role of Gerard Damiano in "Lovelace" at the Edinburgh Fringe Festival in Edinburgh, Scotland. The show garnered him an LA Weekly Award after playing in Los Angeles for six months. His New York Credits include "The Music of Andrew Lloyd Webber" with Michael Crawford at Radio City Music Hall and the off-Broadway shows "Bernie's Bar Mitzvah," "Making Waves," "Songs the Girls Sang" and the recent hit off-Broadway musical "Fabulous Divas of Broadway" written by Palmer which continues to tour the world. Film and television credits include "Hot Springs Hotel" and "Compromising Situations" (both for Showtime), "Mind Your Manners, Brother Red," "The Club" the sketch comedy show "Skin Deep Detergent," "Accidentally in Love," "Heaven's Idiots" ("Best Comedy Short" at the Bare Bones Film Festival), and is best known to TV audiences as Corcus on "The Mighty Morphin Power Rangers." Alan is an award winning director/choreographer based in Los Angeles, whose credits include the 50th Anniversary production of "Oklahoma!" for Broadway-Grand Opera, the West Coast premiere of the musical "It's a Wonderful Life." The original production of "Inaccurate Information" written by Jeffery Bowman at Hudson Theatre (L.A. Garland/ Best Director), the new version of "Nunsense A-Men" at Open Stage West and tours of "Forever Plaid," "An Evening of Andrew Lloyd Webber," "Pump Boys & Dinettes," and "Godspell" (Applause Award, Best Director). He has written several revues, including the musical rockumentary "Rock on Broadway," his award winning adaptation of "Songs the Girls Sang" (ADA Award, Best Choreographer) and Ovation Nomination, Best Adaptation). He wrote the film "Journey of a Jacket" seen at the Sundance Film Festival in 2006, the television series "The Club", as well as his fourth solo CD "Songs for Souls" for The Homeless Children's Charity Project.
CURTIS JEROME (Costume Designer) has developed numerous clothing lines for men, women and children since 1994. Currently, he designs for the E.M. Hall women's line in Los Angeles. Several productions are in development for Las Vegas resorts, with one receiving a fully costumed showcase of Curtis' designs at the Flamingo Las Vegas Showroom. "Mr. B" is proud to be a contributing designer for the Golden Rainbow Awards, held annually at Bally's Las Vegas, to benefit the Gay and Lesbian Community Center of Southern Nevada. He was the youngest Resident Designer of the prestigious Orange County Children's Theatre, California and in addition to many civic and community theater projects in California, his designs have been seen on the vintage TV show "Dance Fever" and in such films as Sex Insurance Inc., for which he received recognition from the Outfest Film Festival. Curtis' home design studio can be viewed at LivingConceptsStudio.com