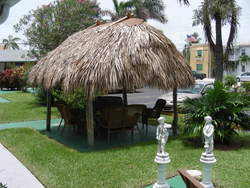 Hollywood, FL (PRWEB) July 3, 2008
Hollywood Beach Florida Hotels, of Hollywood Beach Florida, are currently taking reservations for the 2008-2009 season. The Caroline and Charter House have been extensively renovated for the season and have added many new amenities. Asides from a complete ground up restoration, the hotels have added new furniture, appliances, flat screen cable televisions, free wireless internet, and much more. Please visit our new site Hollywood Beach Florida Hotels.
The Caroline is a 16 unit building located in the center of the redevelopment area. This area has just added a new parking garage, recreation center, and new handball courts. The hotel has views on the Intracoastal, Broadwalk, and beach.
Charter House is a two story 19 unit building located steps from the sand. It is also located in the redevelopment area close to the the beach theater which hosts free live music on a nightly basis.
Both hotels are located within 8 miles of the Hard Rock Casino, Airport, and downtown Fort Lauderdale.
To learn of all of the wonderful attractions the city of Hollywood has to offer, please visit our Hollywood Hotel Attractions
To make reservations, please visit their reservations page located at:
Hollywood Hotel Reservations
We look forward to seeing you this season and hope you enjoy the improvements the City of Hollywood has made to our beautiful city and beaches.
###