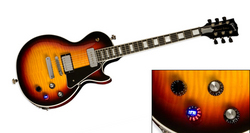 'We've already had strong enquiries! I suppose the word has spread quickly.'
(PRWeb UK) March 30, 2011
UK Gibson dealer Hollywood Music is set to receive the UK's very first Les Paul 'robot' electric guitar.
The next-generation guitar's features include automatic tuning via unique, servo-assisted 'robot' tuners, which also allows players to 'dial in' their chosen sound or alternate tuning and have the guitar automatically adjust itself within seconds.
Major new Gibson guitar releases normally consist of a launch at multiple music stores or special events, so this is a high-coup for independent music shop Hollywood Music, based in Stony Stratford near Milton Keynes.
Hollywood Music co-owner Jon Evans said, 'It's an amazing guitar, but I don't suppose we'll have much chance to experience it as we've already had customer enquiries! It seems the word has spread quickly.'
The guitar is said to pack a dizzying array of sonic capabilities, but availability of this new model, which is named the Les Paul 2010 Standard, is extremely limited. Demand is expected to well exceed supply, with fewer than five units currently available on back order for the entire UK! Hollywood Music UK will receive the UK's first available unit by end Mar 2011.
'The fact that we will have the first available in the UK is fantastic for the store' said Jon, 'I just wish we could keep it!'
Hollywood Music also stocks another rare guitar, the Appetite for Destruction 'Slash' Les Paul Custom. Named after the 1987 album that made Guns 'n Roses, and their guitarist Slash, a household name, it's one of only two in the UK and of only 100 ever made. The Slash custom shop is priced at £9,995.
Gibson's Les Paul range of guitars takes its name from the legendary inventor, musician and pioneer of the solid body guitar, who died in 2009 aged ninety-four.
Hollywood Music UK stocks over 250 guitars, keyboards and amps within its 1500 square feet showrooms in the town's High Street. Contact the shop for more details on 01908 261990, or search online for 'Hollywood Music Shop'.
###