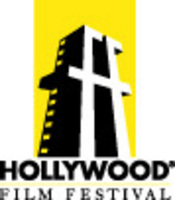 We are very excited that once again we will be showcasing works of emerging filmmakers, as well as recognizing those who are dedicated to the comedy genre. The selected films will be competing for the
Beverly Hills, CA (PRWEB) March 17, 2009
Hollywood, CA March 17, 2009-- The 13th Annual Hollywood Film Festival®, presented by Starz, announces their "2009 Call For Entries" and the launching of the "Hollywood Comedy Film Festival" and "Hollywood Comedy Awards" to highlight and celebrate the comedy genre in Hollywood.
"We are very excited that once again we will be showcasing works of emerging filmmakers, as well as recognizing those who are dedicated to the comedy genre. The selected films will be competing for the "Hollywood Discovery Awards® - Drama and Comedy" and the "Hollywood Awards® - Drama and Comedy,"which will be honoring both new and established talent," festival founder Carlos de Abreu said.
"Starz Entertainment is proud to be the presenting sponsor of the Hollywood Film Festival which showcases a diverse range of compelling stories and filmmaking from around the world," said Stephan Shelanski, executive vice president, programming, Starz Entertainment. "We are enthusiastic about the addition of the "Hollywood Comedy Film Festival" and the "Hollywood Comedy Awards" that will provide added value to this extraordinary festival-going experience. We look forward to an entertaining selection of wildly funny and imaginative stories and the opportunity to celebrate and salute the comedy genre."
The Hollywood Comedy Film Festival Advisory Board includes Greg Cavic (agent, CAA), John L. Jacobs (producer, "Blades of Glory," "Beverly Hills Chihuahua), David Permut (producer, "Youth in Revolt"), Tim Sarkes (manager, Brillstein Entertainment Partners), Christie Smith (manager, Mosaic Media Group) and Oscar® nominated Robert B. Weide (director, "How to Lose Friends & Alienate People) among others.
"We at the Hollywood Film Festival are aiming to ensure that comedy filmmakers' 'labors of love' pay off through an A-level platform for comedy," said Anthony D'Alessandro, Senior Programmer of the "Hollywood Comedy Film Festival" and "Hollywood Comedy Awards."
A diverse lineup of films from around the world, including shorts and feature films, will be offered during the festival, which takes place October 21 to 26 at the state-of-the-art ArcLight Cinemas in Hollywood. In addition to tributes and Q&A panels, there will be live events during the run of the festival. On October 26, the festival culminates with the prestigious Hollywood Awards Gala Ceremony.
Last year's festival was a smashing success, attracting thousands of moviegoers and receiving extensive coverage in all of the major local and national publications.
The festival and awards presenter is Starz Entertainment, LLC, is a premium movie service provider operating in the United States. It offers 16 movie channels including the flagship Starz® and Encore® brands with approximately 17.7 million and 31.7 million subscribers respectively. Starz Entertainment airs more than 1,000 movies per month across its pay TV channels and offers advanced services including Starz HD, Encore HD, Starz On Demand, Encore On Demand, MoviePlex On Demand, Starz HD On Demand, Encore HD On Demand, MoviePlex HD On Demand, and Starz Play.
For more information please go to http://www.HollywoodFestival.com
Festival Contact: 1.310.288.1882
Penny Austin
Hollywood Film Festival®
433 N. Camden Drive, Suite 600
Beverly Hills, CA 90210
###