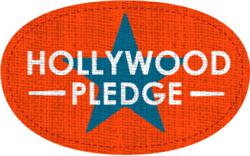 We love to see our celebrity friends inspiring their fans in such a positive way.
Hollywood, CA (PRWEB) June 22, 2011
Patricia Arquette, Maria Bello, Kristin Chenoweth, Lisa Ling and Sean Penn have joined the growing list of celebrities taking the "Hollywood Pledge", a philanthropy campaign led by the Give Back Hollywood Foundation and inspired by Bill Gates & Warren Buffett's Giving Pledge. The "Hollywood Pledge" and its companion website unites celebrity philanthropists and serves as a convenient way for them to promote the charities and causes they are most passionate about.
Other celebrities that have recently joined the campaign include Fran Drescher, Leeza Gibbons, Holly Robinson Peete, Sugar Ray Leonard, Christina Ricci, Emily Gerson Saines and Harry Shum Jr. Their causes range from helping the homeless and survivors of sex trafficking to breast cancer research and autism awareness.
Celebrities take the "Hollywood Pledge" through the HollywoodPledge.com website and list the charity or charities they support. Aid for Haiti is still at the top of the list of celebrity causes. Sean Penn has highlighted the J/P Haitian Relief Organization, which was established to help the people of Haiti recover from the devastating January 12, 2010 earthquake. Patricia Arquette is promoting Give Love, a charity she founded to develop temporary housing solutions and improved sanitation systems in Haiti, and Maria Bello supports We Advance, an international NGO that strives to empower Haitian women by recognizing female issues. Fans are encouraged to give back, whether through monetary donations, volunteer work, or just getting involved in their communities to make a difference.
"I am so grateful for the outpouring of support for this new campaign," explains President and Founder Todd Krim. "Celebrities have immediately answered the call by encouraging their fans to get involved and join them in giving back. We love to see our celebrity friends inspiring their fans in such a positive way."
Stars who have already taken the "Hollywood Pledge" include Justin Bieber, Laurence Fishburne, Richard Gere, Dwight Howard, Hugh Jackman, Jewel, Kim Kardashian, Ricky Martin, Kelly Osbourne, Rachel Zoe, Jordin Sparks, Denzel Washington, and many others. Sponsors of the "Hollywood Pledge" include ABC, The Hollywood Reporter, Screen Actors Guild Foundation, JetBlue and Glam Rock Watches.
About Give Back Hollywood
The Give Back Hollywood Foundation is a 501 (c)(3) public charity formed to assist members of the entertainment industry in "giving back" by raising funds & awareness for non-profits everywhere with an emphasis on children, health and disaster relief. Because each celebrity and each company we work with support or endorse different charities and causes, we aim to benefit the most charities and causes imaginable through our events, programs and celebrity matching efforts. For more information, please visit http://www.GiveBackHollywood.org.
###