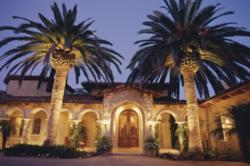 Hollywood Hills, Ca (PRWEB) September 06, 2012
With the summer buying season coming to a close, data collected by Red Blue Realty suggests that supply of Hollywood Hills real estate does not meet the demand. Besides overpriced, hyper-personalized or damaged homes, almost every new listing put up during this year was met with a plethora of interested buyers. But what makes Hollywood Hills different than other markets?
1) Prices Stabilizing
As of the moment, home prices appear to have stabilized, and it's likely that Hollywood Hills home-sellers have caught on. This price stabilization gives home-sellers the incentive to hold out and see if prices continue to rise, because they believe that time is on their side. This hold-out, in turn, results in fewer homes on the market. Price expectations are very important when it comes to predicting how buyers and sellers will behave.
2) Underwater
Another potential reason for the shortage of Hollywood Hills homes for sale is that prices haven't risen high enough for those homeowners who would sell but cannot, because their property is "underwater". Even if these home owners wanted to sell their home, negative equity basically forces many them to sit tight and wait it out. While this phenomenon isn't as common in the high-end real estate market, it's still a notable factor because "underwater" homes can potentially limit inventory.
3) Buyer Competition
With historically low interest rates and seemingly stable real estate prices, buyers have every incentive to buy a home now. The incentive system has in turn resulted in a competition amongst buyers for the best Hollywood Hills homes for sale. Competition is most intense for aptly priced, modestly designed, and turn-key ready homes. Today, the properties that haven't sold tend to be overpriced, damaged, and/or appeal only to a niche audience.
4) Hollywood Hills is Simply an Amazing Place to Live
Putting economics aside, many buyers want to buy a home in the Hollywood Hills neighborhood simply because it's a great place to live. The secluded, quiet and peaceful hills offer moderate temperatures, beautiful hiking trails, and easy access to both the San Fernando Valley and Hollywood. It's not difficult to imagine why these homes are in such high demand.
For those who are interested in buying or selling real estate in this incredible neighborhood, contact Red Blue Realty today for the perfect Hollywood Hills real estate agent!
Website: RedBlueRealty.com
Email: Contact(at)redbluerealty(dot)com
Phone Number: 1 - (855) 66-RBREALTY or 1- (855) 667-2732
Get social with Red Blue Realty on Facebook and Twitter!