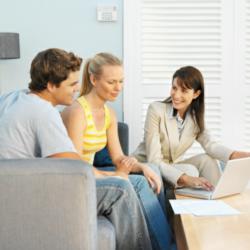 Los Angeles, CA (PRWEB) February 21, 2013
In order to avoid mistakes when pricing a home for sale in today's volatile Hollywood real estate market, it's vital to choose a skilled, professional Hollywood real estate agent to assist a seller. With property values rising and buyers clamoring for properties to buy, some sellers may feel justified in handling a home sale on their own, avoiding real estate commissions. But these commissions mean that a home seller has an advocate on his or her side, capable of preventing costly home sales pricing mistakes as well as other costly and legally binding errors on the part of the seller.
Hollywood homes for sale are certainly in great demand, but this doesn't necessarily translate into smooth sailing for a home seller. A skilled Hollywood real estate agency such as Red Blue Realty can assist sellers with negotiations and prevent financially devastating mistakes.
Sellers should note that the entire process of selling a home offers many challenges and takes up a great deal of time. Buyers may make low offers or spend so much time evaluating a home that sellers succumb to a lower price than they'd hoped to achieve. Having the services of a professional as back up makes a seller much more likely to avoid any sales pricing mistakes, or make a bad decision such as accepting a high offer without regard to other contractual elements in place on that offer.
Common pricing mistakes that a Hollywood real estate agent can help sellers avoid range from the high to the low. Some sellers may set an unrealistically high price, based on demand for properties or what they assume their property may be worth, without paying any attention to the property's condition, or comparative property values in the same neighborhood. A home with a yard, for example, may be worth more than an otherwise identical property without one. Similarly, a real estate professional can help a seller to determine what added features can create a real sales difference for the seller. If a home down the street is equipped with contemporary, low maintenance landscaping and new energy saving appliances, both of these relatively small expenditures can make that property more lucrative for the seller and create substantially more buyer interest than a property without these features. A Hollywood real estate agent can help a seller decide if making small improvements like these will substantially enhance a selling price.
And without the expertise of a real estate pro, it's also common for a seller to set an unrealistic price on the low end of the scale. Without information about the current Hollywood real estate marketplace, or offers made above listing price, multiple offers, and other essential selling information knowledge, a seller would have no way to determine whether his or her property was a currently hot commodity, capable of commanding a higher price regardless of whether the property could be considered a "fixer upper."
In short, utilizing the services of a Hollywood real estate agent can mean the difference between a quick, cost effective sale and dealing with unrealistic property values or any on-going issues that prevent closing. From basic assistance in pricing and marketplace enhancements for a home to assisting with everything from inspection issues to acceptable earnest money amounts, having a professional on the side of the seller results in a positive selling experience all around.
Website: http://www.redbluerealty.com
Email: Contact(at)redbluerealty(dot)com
Phone Number: 1-(855) 66-RBREALTY or 1-(855) 667-2732