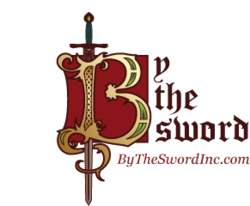 Ft Myers, FL (PRWEB) October 19, 2012
This is the season to indulge in fantasy, adopting another identity. In the world of pretend, By The Sword is a trusted provisioner of costumes and costume accessories. Most people don't want a Medieval functional hand-forged halberd, a full suit of functional armor, a Hessian Horseman cape, or proper Renaissance clothing --- available at ByTheSwordInc.com, an online store in business since 1995 --- like a producer might; but, most would like to properly escape into a character. So details, quality and authenticity matter.
Understanding the characters that people have fun becoming and knowing what quality costumes are available in an affordable price range, ByTheSwordInc.com offers costume options that are interesting to many, not just movie producers. For example, By The Sword has the following officially licensed Avenger costumes still in stock:
1. Black Widow
2. Thor
3. Captain America
4. Iron Man (for XXL guys)
And for little ones, the following darling Shrek toddler costume is in stock.
5. Shrek - Puss In Boots Costume for Toddlers
The inside scoop is that the ordinary Halloween party-goer has the same opportunity to buy from the same place that TV producers go to. Each of these productions purchased costumes or costume accessories from By The Sword:
Ecce Bronies
Warehouse 13
Once Upon A Time
Pirates of the Caribbean 4
Spartacus: Blood and Sand
Bedtime Stories
the full list of productions we can tell you about is available here: http://www.bytheswordinc.com/t-featuredindetail.aspx.
Those interested in learning more about By The Sword can visit ByTheSwordInc.com. To request additional information, please contact Lindy Rothgeb at 239-433-9368.
About By The Sword, Inc: Company is a leading online retail store for costumes, period pieces, and items related to historical eras, fantasy, and live action role-playing [LARP]. People at By The Sword know about making fantasies come to life such as selecting the proper real sword or making a production deadline for 200 functional leather armor costumes. By The Sword sells costumes and costume accessories to many professional productions from the Ashland Shakespeare Festival to San Francisco Opera to the TV show Once Upon a Time. In addition to a diverse offering of quality products, customers are benefited by the company's superior knowledge, expertise and great customer service.