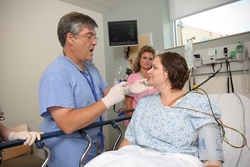 Holston Valley has always been a leader in health care and proven time and again it makes a positive difference in the lives of patients
Kingsport (Vocus) July 1, 2010
Excitement and a feeling of fulfillment permeate Holston Valley Medical Center these days as Kingsport's flagship hospital crosses the finish line for one of the most ambitious and successful transformations of medical facilities in the region.
The joy is understandable. Already a premier provider of medical services, including Tennessee's No. 1 cardiology program, Holston Valley now boasts renovated and expanded facilities that position the hospital for growth and success well into the future.
It's all part of Project Platinum, a $114 million investment in a city that has entrusted its care to Holston Valley for generations. Taken as a whole or in parts, Project Platinum has made a bold statement that a new era in health care has arrived at Holston Valley.
Project Platinum was launched in 2005 and named in recognition of Holston Valley's 70th anniversary that year.
"Holston Valley has always been a leader in health care and proven time and again it makes a positive difference in the lives of patients," said John Williams, chairman of the hospital's board of directors. "Now, Holston Valley has updated facilities to continue serving our friends and neighbors well into the future. We are proud of the improvements we have made and believe they demonstrate our commitment to Kingsport and the region."
Hospital leaders, physicians and employees are celebrating this special time in Holston Valley's history. Earlier today, the hospital held a 2K fun walk and run for employees. Rather than a standard ribbon cutting with scissors, the winner did the honors by running through the ribbon at the finish line.
Officials also gave tours of the "new" Holston Valley, highlighting the hospital's improved emergency department, operating rooms and intensive care unit. Speakers at today's event noted the significant contribution Project Platinum has made to Kingsport and the region.
"This is a fantastic moment in the history of Holston Valley," said Blaine Douglas, the hospital's president. "The leadership and vision so many people showed has resulted in an outstanding outcome.
"We are proud of the dynamic improvements we have made. We have upgraded the provision of services, provided a soothing environment for our patients and generated significant savings through several green initiatives."
So why is unabashed excitement flowing through the veins of Holston Valley? Just take a look at the list of dramatic changes that have occurred in the hospital.

The new emergency department has 19 acute care rooms, three major trauma rooms, 10 minor trauma rooms and two triage rooms. Other features are a new emergency waiting area, emergency registration area, family waiting rooms and secure rooms and new space for staff.
Featured on the fourth floor are 14 operating rooms, three future operating rooms, staff and physician lounges, a pathology lab, 18 post-anesthesia care unit beds, eight pre-operation beds, 17 same-day service beds and a family waiting lounge.
The fifth floor has 36 intensive care unit beds, a family waiting area and support offices.
Project Platinum positively impacted other areas of Holston Valley, as well. The entrance to the hospital's heart center and the main entrance to Holston Valley are new. Pre-admission testing now has 12 rooms, a nursing station and support rooms. The gift shop has moved to a new location next to the front entrance.
Highlands Pathology Group staff offices, a conference room and support space now occupy the third floor. A mechanical room supports the surgery area on the fourth floor. The third floor has 14,364 square feet of new and renovated space.
Taken as a whole, Project Platinum touched 217,712 square feet through new construction or renovation.
As exciting as all of the changes are for Holston Valley, Douglas knows people who live near the hospital were gracious during the construction activity in their neighborhood.
"I want to tip my hat to our neighbors, who might have been inconvenienced from time to time," Douglas said. "We thank them for their patience and hope they are as proud of the finished product as we are. We value them as neighbors."
Access to Holston Valley by automobile has received plenty of attention in Project Platinum through projects such as a four-level parking garage near the main entrance. But it is improved roadways that have generated the most excitement. Holston Valley and the city of Kingsport have worked on bridges and realigned roads around the hospital.
The city is working on the last link that will bring to fruition a long-held dream of the community and hospital officials – direct access from Stone Drive to Holston Valley. Kingsport is building the segment that eventually will enable motorists to turn from Stone Drive in the Gibson Mill area and follow an attractively designed and built road network.
Once work ends later this summer, memories of driving through neighborhoods to reach Holston Valley will begin to fade.
But it wasn't just the addition and renovation of space, roadwork and parking garages that have given a boost to Holston Valley. Hospital officials also examined how the hospital operates and impacts the environment and made dramatic improvements.
Project Platinum included new boilers and chillers that have resulted in major savings to the hospital's bottom line. The hospital removed a 125-foot chimney that had served as a landmark in Kingsport but gave Holston Valley an institutional feel.
Holston Valley also developed a pleasing new look with the addition of art, new floors and recessed lighting.
As he reviewed Project Platinum in its totality, Bob Burgin, interim CEO of Wellmont Health System, was deeply impressed.
"I was well aware of the excellent reputation of Holston Valley during my service as a member of Wellmont's board of directors," Burgin said. "That has only become clearer in the four months I have served as interim CEO and seen the stellar work of our physicians, nurses and other staff.
"As I have watched the finishing touches of Project Platinum being applied, it is evident that Holston Valley's leaders had a solid vision that excellent facilities were just as essential as the superior care we provide our patients. The results have been outstanding and will leave a legacy for generations to come."
# # #