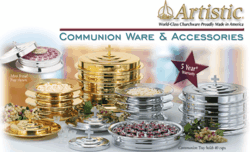 "Our Churches and Ministries are based in the United States." stated DCM CEO Bill Goodyear. "The 'Made In America' message resonates with those customers..."
(PRWEB) May 08, 2012
DeeperCalling Media's retail division Deeper Shopping today announced that it is strengthening its vendor relationship with Artistic Manufacturing of Iowa. Artistic is the leading North American manufacturer of Communion Supplies including communion trays, cups and supplies. The company manufactures its products in the United States at it's Iowa based facility.
Over the last several years, DeeperCalling has seen strong growth in sales of Artistic Communion products amongst its retail clients. In the last twelve months, demand has increased close to 200% as customers resonate with the brand's strong "Made In America" message. Christian Bookstores using the DeeperCalling eCommerce Bookstore solution have seen a substantial increase in the number and size of Artistic Churchware orders.
"Clients tend to be Churches and Ministries based in the United States" stated DCM CEO Bill Goodyear. "And we find that Churches and Ministries are extremely patriotic, favoring domestically made products 4 to 1 according to historical sales numbers. Customers prefer to snap up Artistic Communion Trays, as well as supplies such as Communion Bread over all other brands."
Effective immediately DCM has increased its inventory of Artistic products including Silvertone Communion Trays and Brasstone Communion Trays. The company is expected to further increase inventory again in the third quarter of 2012 in preparation for the Christmas season.
About Deeper Calling Media
Deeper Calling Media is the world's largest supplier of turnkey full service internet web stores for booksellers in the ABA, CBA, Church & ministry markets. Visit deepercalling.com for more information regarding the company. Those wishing more details about the fully customizable Christian bookstores, online stores, and drop ship programs should see, http://www.deepercalling.com/