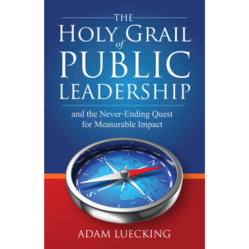 "A great resource for any local government that is thinking about a results-based approach to government operations."
Rockville, MD (PRWEB) April 28, 2013
The Results Leadership Group CEO, Adam Luecking, recently published his new book, The Holy Grail of Public Leadership: and The Never-Ending Quest for Measurable Impact. The book specifically addresses the challenges traditional notions of "success" in community-oriented, social sector work with practical tools for achieving Measurable Impact.
Public leaders from nonprofit and government associations across the country are already praising the timeliness of the book. "The concepts in this text, namely Results-Based Accountability™, have been proven an effective approach for public managers to marshal resources from across complex systems to drive better outcomes for kids and families," said Chris Kingsley, Principal Associate for Data Initiatives for National League of Cities. Prince George's County Executive, Rushern L. Baker III, has also already praised the mission of The Holy Grail of Public Leadership, saying the book is "a great resource for any local government that is thinking about a results-based approach to government operations."
The Holy Grail of Public Leadership is two books for the price of one. It is a leadership guide and performance management textbook. The book transitions seamlessly between these two spheres without becoming too dense to digest and complicated by academic considerations which don't apply in the real world. Through colorful examples, real-life anecdotes, and a conversational tone, The Holy Grail of Public Leadership aims to inspire readers to unlock their potential as leaders--without any background in performance management techniques.
The Holy Grail for Public Leadership builds upon the foundation laid out in the seminal book on Results-Based Accountability™ ("RBA"), Trying Hard is Not Enough by Mark Friedman. But rather than focus on the how, The Holy Grail of Public Leadership also addresses why achieving Measurable Impact is so important. The Holy Grail of Public Leadership humanizes the framework and demonstrates how to adapt the tools to the reader's community and workplace.
To learn more about The Holy Grail of Public Leadership visit, http://www.resultsleadership.org or on Amazon.
Adam Luecking, CEO of the Results Leadership Group, manages executive leadership programs, consulting services and technology deployment to agencies that serve children, families and communities. Luecking also recently led the creation of the Results Scorecard, web-based software for Results-Based Accountability™ (RBA), that helps leaders in the public and nonprofit sectors accelerate the improvement of the quality of life in their communities and the performance of their agencies and programs.