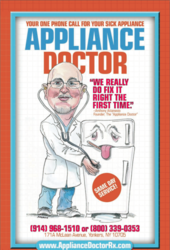 "I don't want my customers to waste their time. When I fix an appliance I want to leave them feeling satisfied, so if they have a home appliance repair they can handle I help them do that." -Anthony Attanasio
Yonkers, NY (PRWEB) October 20, 2011
This quarter The Appliance Doctor released a 20-page book on the seemingly contradictory topic of how to avoid calling for appliance repair. The goal behind creating this book was to offer Appliance Doctor customers the most excellent service available in NYC, Westchester and the Bronx.
"I don't want my customers to waste their time," Anthony Attanasio, the Chief of Staff at Appliance Doctor said. "When I come to their homes to fix an appliance I want to leave them feeling satisfied, so if they need an appliance repair that they can handle I will them do that."
Attanasio says that providing this level of exceptional customer service has been a steadfast business practice of his for the past 30 years and it is a commitment he stands strongly behind.
Written by Attanasio himself, the book consists of several articles filled with helpful do-it-yourself appliance repair information such as what to look for when something goes wrong with your washer and dryer, how to maintain your front-loading washing machine, why your dishwasher isn't cleaning like it used to, and how to know when you need to call for professional appliance repair (by the Appliance Doctor, of course).
In addition to appliance repair, Attanasio writes about his other area of expertise: philosophies behind great customer service. He points out that a good small business appliance repair company should always have a human answer the phone, provide same day service and should uphold a standard of quality work and respect for entering into a customer's home.
The 20 page book is available in print, but can also be acquired by filling out the quick form on his new website's homepage.
"I hope my customers read my book and hold on to it, so they can try out their own home appliance repair," Attanasio said. "And if they can't fix it on their own, they'll have The Appliance Doctor phone number listed right on the front page, plus a couple of coupons.
###