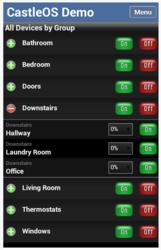 CastleOS allows users to adjust their lighting, HVAC systems, and other devices by simply speaking out loud from anywhere within their home
BOSTON, MA (PRWEB) January 08, 2013
CastleOS Software, LLC (http://www.CastleOS.com) has announced availability of their new home automation software suite, CastleOS, featuring the world's first whole-house voice control system. CastleOS is the first home automation controller to fully integrate the power of the Microsoft Kinect™ and modern home automation systems like Insteon, X10, and soon, Z-Wave and ZigBee, among others.
With this capability, CastleOS allows users to adjust their lighting, HVAC systems, and other devices by simply speaking out loud from anywhere within their home. Imagine sitting down for a movie, and rather than having to stand up to turn off the lights, simply saying out loud, "Computer, turn off the lights". Or, tossing and turning in bed because it's a little too hot, and instead of getting up to adjust the thermostat, saying, "Computer, turn up the A/C".
In addition to the voice interface, users can control their home from their phone, tablet, computer, and any other device with a web browser, using the accompanying HTML5 app. The CastleOS app is very simple to use, designed for and tested by homeowners, not tech professionals.
CastleOS also measures the energy use of the homes it's installed in – breaking down the energy usage of lighting, HVAC systems, appliances and more. With the usage information provided by CastleOS, energy bills have been easily cut by as much as 10% or more.