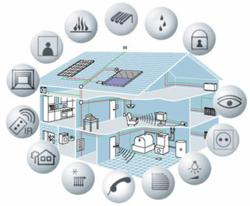 We spent a great deal of time researching the right packages to offer to our buyers
Salt Lake City, UT (PRWEB) July 22, 2012
As the trend in new home construction becomes increasingly focused on technology and energy efficiency, J Thomas Homes is embracing the opportunity to provide their buyers with smart home automation options. The company now features four different automation packages to suite every need.
The company first began looking into smart home options as they noticed interest from previous buyers who asked for possible security and automation features in their homes. This lead the company to begin seeking out the industry's top home automation solutions.
"We spent a great deal of time researching the right packages to offer to our buyers," remarks Corey Johnson, president of J Thomas Homes. "There were many different providers and options to choose from, but we now feel confident we are offering the best packages available."
The four smart home packages consist of three technology options with a separate fourth package that is provided through Vivint, a Utah based home security provider. These packages include options for wireless multi-room audio, wireless home HVAC controls, home lighting systems, door locking, surveillance cameras and more. The Vivint home security package features mobile apps to control and monitor your home's security while you are away. Each of these different packages can be combined to create a custom smart home system to meet different home buyer needs. The offerings are available for both townhomes and single family homes throughout all the company's communities.
"We are very excited to offer this level of technology and convenience for our clients," says Johnson, "the smart home options available are truly remarkable."
For information about the new home automation offerings visit their website at JThomasHomes.com or call (801)383-3252.
Based in North Salt Lake, J. Thomas Homes is a premier Utah home builder. The company develops new construction single family homes and townhomes in Cache Valley, Utah County, Salt Lake County and Weber County.