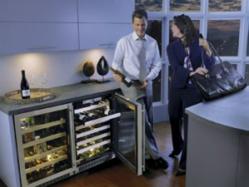 Making a good, fully functional home bar is about more than just putting up a nice bar top and stools and busting out the cocktail shaker.
(PRWEB) August 12, 2012
HomeThangs.com – the Home Improvement Super Store has made their goal to deliver the right product to the consumer, with that in mind, shopping and home design tips, as well as special product selections are being introduced.
For those who do a lot of entertaining and have a little extra space in a home, transforming a portion of it – a basement, unused formal dining room, or spare living room – into a bar or entertainment area is a good idea. But making a good, fully functional home bar is about more than just putting up a nice bar top and stools and busting out the cocktail shaker.
HomeThangs has introduced a guide to home bars for those who entertain a lot – a checklist of what equipment to get and why.
1. Bar Sink
A bar sink is worth considering when it comes to building a home bar, either built into the prep station behind the bar or directly into the bar itself. Why? If bar is built in an odd space – like a basement or even a garage – one might not have an existing sink, which means having to leave the room to rinse fruit, wash glasses, or even to do a decent job of mopping down the bar.
Trough-style sinks like Allegany Bar Sink from Sierra Copper are great for a home bar. The hand pounded copper finish is beautiful enough to accent even a really nice bar top, it's easy to clean, and it's slightly sloped for easy draining.
2. Wine Cooler / Wine Cellar
A built in wine cooler can be an excellent addition to a home bar, especially for those who have more than a few bottles of wine on hand at a time. Ranging in size from smaller-than-a-mini-fridge to the size of a full refrigerator, wine coolers are great for keeping wine in a climate controlled environment to mature – and at the ideal serving temperature. Larger models can hold upwards of 200 bottles in a motion-dampened, UV-proof, climate controlled space, and are an excellent alternative to full sized wine cellars. Smaller models do the same job for a dozen bottles or fewer, which is good for a more casual wine drinker. For someone with a medium sized, mixed selection, something like the Dual Zone wine cooler from Marvel that houses white and red wines in separate temperatures would be a good choice.
3. Kegerator
Entirely self contained, kegerators are essentially mini fridges (many of them can actually be converted back into fridges as needed) with a tap on top, room inside for a keg and a canister of CO2, and all the hardware to connect them all built in. Individual kegerators can have as many as 3 taps, though the more varieties of beer one wants to serve from a single kegerator, the smaller the kegs will need to be. The Half Keg Beer Dispenser by Marvel builds right in to the counter and can hold a half keg of beer at the perfect serving temperature (just above freezing) for 2 months or 175 12 oz glasses.
Because they have their own built in, refillable CO2 supplies, home kegerators will store beer properly and at the ideal serving temperature, and offer both an authentic tap taste and an authentic tavern look and feel. The Dual Tap from Summit can be adjusted up to three taps in a variety of finishes - all modern steel or wood and brass for something with a little more pub style.
4. Beverage Cooler
There are a couple different kinds of beverage coolers – the full sized ones like those in a mini mart, and smaller, under-the-counter types like Beverage Coolers by Summit Apliance, that are much better suited to a residential setting. For bottled beer, soda, mixers, or just spare water bottles, a beverage cooler is a good way to organize bottled or canned drinks and keep them cooled.
5. Ice Maker
This is the one appliance that flirts with frivolity. For those who serve a lot of mixed drinks, or host a lot of parties that last longer than one can keep the ice frozen, installing an ice machine like the Crescent Cube Ice Maker by Marvel into a bar's prep area can save a lot of back and forth, and keep one fully stocked in ice all day and night.
6. Mini Fridge
Mini fridge is more versatile than almost any other home bar specific appliance, and when serving a party, chances are one is going to need a little chill – cold drinks, cold mixers, chilled fruits for garnish, or even just a cheese or veggie platter or a tub of dip. Something like a Mini Fridge from Summit Appliance won't take up much space, can install either under the counter or anywhere else in the room, and only need a single outlet to function. Plus, some of them even have small freezers for a couple trays of ice.
HomeThangs.com is not only a home improvement superstore, it also provides expert design tips and a comprehensive shopping guide, taking the ideas from professional interior designers, and offering tips to the consumers on how to pick the products to best suit their needs.