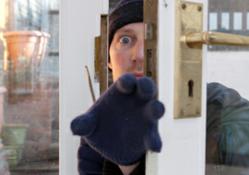 Home burglaries when someone is at home adds additional threats of violence, but these tips can help minimize those risks.
Los Angeles, CA (PRWEB) February 14, 2013
While having a break-in occur while away from home can seem like a horrible situation, being home during a break-in is likely the worst possible scenario for many people. Being caught at home during a home break-in can be prevented in many cases, by the presence of alarm systems, but even with the best security precautions, there are instances of residents of a home being present when a break-in occurs. Regardless, prevention is the best option when it comes to home security.
If a break-in does occur while someone is home, there are steps that can be taken to protect personal safety and to prevent the situation from becoming more dangerous. The security team at AlarmSystemReport.com, a site offering consumers a way to compare alarm systems and alarm system companies, created a list of tips that can be followed in the event a resident is home during a break-in.
1. Create a well-rehearsed plan that focuses on escaping and alerting the authorities. A well-executed plan is the best way to maintain personal safety during a break-in. The plan should be created and practiced well in advance, and all members of the household should be aware of all aspects of the plan. This will keep the residents of a home from panicking during a break-in, which can be the worst way to handle a dangerous or emergency situation.
2. If an intruder does break into a home, family members should barricade themselves in a room, and lock the door. It's also a good idea to place furniture in front of the door. Members of the house should have a cell phone readily available and charged, at all times, in case of emergency, so that while barricaded in the room, 911 can be dialed. A cell phone is a better option than relying on a landline, because a landline can be cut by the intruder.
3. Don't handle a face-to-face interaction with an intruder aggressively, if possible. Escape is always the best option from an intrusion, when possible, unless an individual feels he or she is in a life-threatening position. If faced with a break-in, always have the members of the household focus on escaping, first and foremost.
4. Never leave with an intruder, if at all possible. In most situations, when people leave with an intruder during a break-in, the results are very bad. Always focus on escaping, no matter what the intruder says or does.
5. If located in a safe room, do not make any noise. If a burglar or intruder knocks on the door of the room, do not respond, even if it's to say the police have been called. Keep the burglar from knowing your location for as long as possible.
About the Company
AlarmSystemReport.com is a website providing consumers a way to compare and review alarm system equipment and companies. The site is a great resource for consumers searching for a wirleless alarm system review or an ADT review.