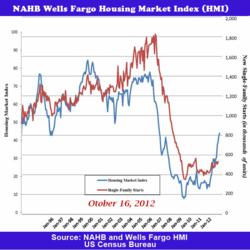 "Smaller builders are better suited to building in more mature areas where there might be just a lot or two between houses. With some of the trends in demand for housing, that might be positive for that type of building." ~ Celia Chen
Minneapolis, MN (PRWEB) October 17, 2012
The National Association of Home Builders (NAHB) released its October survey of builder sentiment stating it rose another point to 41 this month. The seasonally adjusted index is designed so any number over 50 indicates that more builders view sales conditions as good than poor. While it is still below the tipping point of 50, it is the highest level since June 2006. What is noteworthy is that it has steadily climbed over the past year from a reading of 17, a welcome evidence of a slow but steady housing recovery that is giving the U.S. economy a boost.
Butch Sprenger, owner of Destiny Homes says, "increasing numbers of residents are house hunting and if they are going to build, they are taking the time to be decisive about what they want. With fewer lots on the market to select from, buyers are 'treasure hunting' to find the right lot; they are looking for a location with a great proximity to work, the wealth of Minneapolis entertainment, the arts, and shopping opportunities".
"The slight gain in builder confidence this month is an indication that, while still moving forward, the speed at which the housing recovery is proceeding is being moderated by the various constraints such as tight credit, difficult appraisals and more recently, the limited inventory of buildable lots in certain markets," NAHB Chief Economist David Crowe said in a statement. "These are the complicating factors that make it difficult for builder confidence to reach and surpass the 50-point mark, at which an equal number of builders view sales conditions as good versus poor."
Goldman Sachs analyst Joshua Pollard released a report Tuesday complementing the home builder confidence numbers, and predicted that a complex combination of factors, determined by new government mortgage policies and a tight inventory of previously-owned homes for sale, could drive as much as an aggressive 30 percent annual growth in new home sales over the next few years.
Employment for construction workers is down 70 percent since 2006 when the housing industry was at its most robust point. Jobs are returning to the sector, it's slow going as some buyers are waiting to see the results of the upcoming election. Construction employment gains are only about 1 percent off the bottom. "If middle class buyers could gain quality mortgage more readily, we would put more workers back on the job renovating and building homes," says Butch Sprenger.
"That has bearing on the ability of home building to ramp up the production of homes going forward. We're seeing firming in demand, [and] inventory of new homes available for sale is at a record low. As demand picks up, builders are really going to have to start putting up homes." says Celia Chen, senior director at Moody's Analytics.
Destiny Homes says, "fewer developed available lots are on the market,and as a custom home builder, it takes more effort to locate a lot in a great location that is ready for a new construction. Buyers need to have their financing in order to have a chance today". David Crowe, chief economist at NAHB sums up why, "The dynamic has changed. Large public builders have access to capital through their own balance sheets, rather than having to borrow. That gives them an advantage in acquiring the few developed lots."
U.S. citizens applying for mortgages to buy a home have increased, pushing up sales and home prices after a six-year sluggish market. The steady increases suggests housing is stepping out ahead of other industries, like manufacturing, to take a lead role in turning around our economy. The Freddie Mac Primary Mortgage Survey just released October 11, shows just how reasonable mortgage rates are.
Contact Destiny Homes at 952-934-5706 for Minneapolis and St Paul area for distinctive residential new homes or for luxury home renovations.