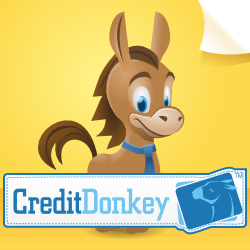 Using a business credit card responsibly helps entrepreneurs manage cash flow while earning rewards
Los Angeles, CA (PRWEB) January 17, 2012
39% of business owners with no employees started their business with less than $5000 in startup capital, according to the U.S. Small Business Administration. CreditDonkey.com, a credit card comparison website, released a new research infographic illustrating where home business owners go for startup capital.
Infographic: http://www.creditdonkey.com/home-business-startup.html
"Aspiring entrepreneurs can minimize the cost of their business venture by operating from home," says Charles Tran, founder of CreditDonkey.com. "In fact, according to the U.S. Census Bureau, over half of all small business owners operate from their home."
CreditDonkey.com put together an infographic to illustrate options available to entrepreneurs. While the majority utilizes personal and family savings, 10.3% of small business owners use credit cards to help with startup financing.
"Using a business credit card responsibly helps entrepreneurs manage cash flow while earning rewards," says Tran.
Visit CreditDonkey.com to view the full infographic on Where Home Businesses Go for Startup Dough. The full infographic includes:

Home Businesses at a Glance
Borrowing Basics
Non-Employer vs. Employer
Startup Financing
Expansion Financing
Typical Startup Expenses
The experts at CreditDonkey.com also recommend the following tips for aspiring home business owners:
Cash Flow
As a business owner, you want to bill and receive payments as quickly as possible as well as follow up on overdue accounts. Essentially, you have to keep that cash flowing to stay afloat.
Require deposits and/or have strict credit terms for your customers. Requiring deposits ensures you get some of the money you asked for if a customer fails to pay.
Having customers pay by credit card can help reduce or eliminate the chances of default. There are several online merchant services that will help alleviate this major financial stressor.
Credit Card Usage
Using your home business credit card (or a credit card cash advance) to finance extravagant large startup expenses is very dangerous and is a good way of quickly burying yourself in debt.
Use your credit card for smaller purchases, such as supplies and equipment. Make sure you can pay this debt off in a reasonable amount of time (when your bill arrives, for the best results). If routine purchases add up fast, you could just be burying yourself in debt.
Paying your entire balance each month will help you get the most out of your rewards like cash back, travel perks, and free merchandise.
Entrepreneurs can visit CreditDonkey.com to compare business credit card deals. CreditDonkey.com publishes credit card reviews, deals and tips to help small business owners make informed credit decisions.
Media Contact:
Charles Tran
charles(at)creditdonkey(dot)com
###