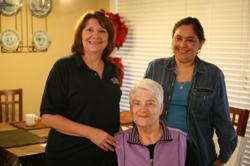 What's required is a passion for the mission and the desire to have your own business.
Omaha, NE (PRWEB) September 23, 2011
When Aaron Blight and Michael Steinberg wanted a business opportunity, they found it . . . just not in their backyards. Both relocated their families to start or develop home care franchise businesses and they've never regretted the move.
According to the U.S. Census Bureau, an estimated 971,000 households moved toward the official end of the latest recession – between 2009 and 2010 – because someone in the family was looking for work or had lost a job.
Aaron Blight, a former director in the division of financial operations for the Medicaid program, and his wife Jessica – a stay-at-home mom – were looking for a business opportunity that could support a family of four children. They found it in 2008 by purchasing an existing Home Instead Senior Care® franchise in Winchester, Va., about an hour and 45 minutes from where they were living in Westminster, Md. Blight had some experience as a family caregiver for his mother-in-law, who had cancer, and knew home care was a growing field.
He conducted a nationwide search and liked the idea of buying a Home Instead Senior Care office in Winchester, a community with a small-town feel where he discovered strong values and good schools. "It was conducive to raising a family," he noted. Buying a successful franchise office also meant immediate income that has continued to grow. Blight opened a second Home Instead Senior Care office in Martinsburg, W.Va., in 2010 to serve seniors in that area by providing non-medical at-home care and companionship services such as meal preparation, light housekeeping, errands and shopping.
Home care has the added benefit of providing a much-needed service, Blight said. "You feel that you can really make a difference," he added. "We genuinely help seniors and their families, and they greatly appreciate what we do."
Steinberg and his wife, Ewelina, already were acquainted with the Home Instead Senior Care network when they decided to open a new franchise office in Wichita, Kan., this year. They had met and married while working in a Chicago-area Home Instead Senior Care office where Michael was director of human resources and Ewelina was client services manager.
The move to Kansas was a research-based decision that helped them realize the dream of owning a business. The Home Instead Senior Care network's strong brand name as well as the training and educational materials provided by the franchisor have helped them thrive. "We're doing very well and have exceeded everyone's expectations," he said.
"The economy helped persuade us that we needed to go with an established, successful franchise system rather than try to start a business on our own," Steinberg said. "The successful franchise model and system have been developed and, as former employees, we knew the best practices that worked well and would help us succeed."
Steinberg noted that experience in caring for seniors is not required. "All that is required is a passion for the mission and the desire to have your own business," he said.
Steinberg advises that business professionals looking to relocate should investigate the community as much as the business opportunity. "Quality of life is just as important as quality of business. Look at schools, real estate and climate."
Blight's advice includes a three-step process: "Do your homework, make an informed decision and then take that leap of faith," he said.
"Opportunities throughout North America exist for opening new businesses or purchasing established offices," said Tim Connelly, director of Franchise Development for Home Instead, Inc., franchisor of the Home Instead Senior Care network. "Relocation can be the start of a new life as well as the dream of business ownership for many entrepreneurs and their families."
Home Care Franchising Web Conference
For information about senior care business opportunities, potential franchise owners can register for a one-hour Home Instead Senior Care Franchise Opportunities web conference. The next web conference is scheduled for Sept. 27 at 1 p.m. Eastern Time.
Tips for Making a Move
If you're planning to relocate family for a job, be sure to conduct research and plan ahead. Before even deciding on a location, make sure that the community meets the family's personal as well as professional needs, the Home Instead Senior Care network advises. Quality of community is as important as quality of business.
Then, when looking for a moving company, "do research and know who you're dealing with," said John Bisney, public relations director for the American Moving & Storage Association.
The Association has developed an industry certification program that features a seven-point background check called ProMoverSM. "Movers who pass the check can display the ProMover logo on their vehicles and websites," Bisney said. More information about the ProMover program is available on the Association's website, moving.org, where consumers can also download a Moving Countdown Calendar to help them plan for the move.
About Home Instead Senior Care
Founded in 1994 in Omaha by Lori and Paul Hogan, the Home Instead Senior Care® network is the world's largest provider of non-medical in-home care services for seniors, with more than 900 independently owned and operated franchises providing in excess of 45 million hours of care throughout the United States, Canada, Japan, Portugal, Australia, New Zealand, Ireland, the United Kingdom, Taiwan, Switzerland, Germany, South Korea, Finland, Austria, Italy and Puerto Rico. Local Home Instead Senior Care offices employ more than 65,000 CAREGiversSM worldwide who provide basic support services – assistance with activities of daily living (ADLs), personal care, medication reminders, meal preparation, light housekeeping, errands, incidental transportation and shopping – which enable seniors to live safely and comfortably in their own homes for as long as possible. At Home Instead Senior Care, it's relationship before task, while continuing to provide superior quality service that enhances the lives of seniors everywhere.
###