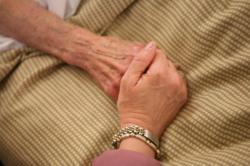 I'm working for myself and can really say what I need to about navigating the system.
Omaha, NE (PRWEB) May 12, 2011
When Judy Best was caring for her late mother, who was deaf and blind and lived an hour from her, she got a taste of what families all over North America go through each day caring for older loved ones. What's more, her more than 20-year nursing career, which included specialized training in Alzheimer's care, gerontology, hospice and senior housing human resources, gave her a varied professional perspective on the needs of aging adults. That personal passion and professional expertise converged six years ago when Best purchased a Home Instead Senior Care® franchise in Oshawa, Ontario, Canada.
"I was working at the Alzheimer's Society as a nurse educator when I watched a video about Home Instead Senior Care and I said, "This organization provides just the type of respite care our clients need," she said.
Best is one of several U.S. and Canadian nurses who have turned a professional medical career into a business that focuses on providing non-medical services such as companionship, meal preparation and light housekeeping to keep seniors safe and independent wherever they are at home. Former nurses who now own Home Instead Senior Care franchises say that a non-medical business allows them a broader view of the care spectrum than they had in the hospital or clinical setting.
"I have so much more of an ability to advocate on behalf of seniors," Best said. "I'm working for myself and can really say what I need to about navigating the system. I think that's the most important thing for me. And that's one of the things I love about it."
Best's office employs about 60 CAREGiversSM who are screened, trained, bonded and insured to care for about an equal number of older adults at any given time. Many of these CAREGivers are seniors themselves who are looking for a way to give back through part-time employment.
Tim Connelly, director of Franchise Development for Home Instead, Inc., the franchisor for the Home Instead Senior Care network, said that franchise owners like Best can be an ideal fit for a home care business because of their caring natures and professional skills. "Even so, the Home Instead Senior Care network's 600-plus North American owners come from varied backgrounds. The main prerequisite is a compassion for older adults," he said.
The increase in the number of seniors who want to be at home is kindling growth in the in-home care industry that provides for both medical and non-medical care for seniors, Connelly added. This shift in market trend also is generating significant hospital savings in the United States.
A nationwide increase in the use of home-health care can save the U.S. billions of dollars in hospital costs, according to a study conducted for the Home Instead Senior Care network by Frank Lichtenberg, the Courtney C. Brown Professor of Business at the Columbia University Graduate School.
Based on his findings, Lichtenberg estimates that the nation may have saved as much as $25 billion in total hospital payroll costs just in 2008 thanks to the growth of home-health care during the previous 10 years. He said that "it is a reasonable calculation" that further savings will be realized in the years ahead if the use of home care continues to grow."
For franchise owners like Judy Best, the motivation to get into in-home care hits closer to home. "I can really make a difference because I can take it in any direction I want. I satisfy my passions. Right now, I'm interested in elder abuse so I can make a big difference in that area. When you're working for yourself, you've got the time to say, 'I think I want to do more.' That's a big reason I would get into it."
For information about senior care business opportunities, register for a one-hour Home Instead Senior Care Franchise Opportunities webinar. The next webinar is scheduled for May 25, 2011, at 1 p.m. Eastern Time.
About Home Instead Senior Care
Founded in 1994 in Omaha by Lori and Paul Hogan, the Home Instead Senior Care® network is the world's largest provider of non-medical in-home care services for seniors, with more than 900 independently owned and operated franchises providing in excess of 45 million hours of care throughout the United States, Canada, Japan, Portugal, Australia, New Zealand, Ireland, the United Kingdom, Taiwan, Switzerland, Germany, South Korea, Finland, Austria, Italy and Puerto Rico. The Home Instead Senior Care network employs more than 65,000 CAREGiversSM worldwide who provide basic support services – activities of daily living (ADLs), personal care, medication reminders, meal preparation, light housekeeping, errands, incidental transportation and shopping – which enable seniors to live safely and comfortably in their own homes for as long as possible. At Home Instead Senior Care, it's relationship before task, while continuing to provide superior quality service that enhances the lives of seniors everywhere.
###