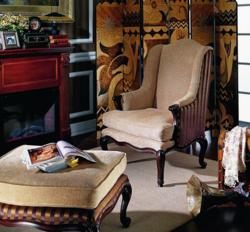 If a corner is simply troublesome, it's not unreasonable to simply block it off with a decorative room divider.
(PRWEB) June 25, 2013
HomeThangs.com – the Online Home Improvement Store has made their goal to deliver the right product to the consumer. With that in mind, shopping and home design tips, as well as special product selections are being introduced.
Corners are among the most difficult parts of a large living room to decorate and often lend themselves to inelegant solutions. Corners can't be used for hanging most artwork, most furniture doesn't fit comfortably in a corner, and corner windows are more of an architectural feat than a go-to solution. Comparatively, it's quite easy to plunk down a decorative floor lamp or plant in a corner and call it done, but HomeThangs.com has introduced a guide to a few more elegant solutions.
1. Corner Furniture
Perhaps the simplest solution to dressing up an empty corner is maybe the most obvious: simply choose furniture that's designed to fit in a corner. Of course this will work for some corners (and some types of furniture) better than others, but corner facing desks, corner chairs, and even corner sofa sectionals slightly offset from the wall all work to fill a space and won't look awkward doing it.
2. Corner Storage
Using a corner for storage is another solution that can help make the most of this awkward space. Unfortunately, most standard bookshelves won't meet comfortably in a corner, but there are many shelves that are designed specifically to fit in a corner, and bookshelf sets that come with a connector piece to conveniently join two standard bookshelves in a corner. This not only maximizes the amount of storage in a wall to wall bookshelf (while also creating a much more polished appearance), but also works well to add just a little bit of storage in a place that would ordinarily go unfurnished.
3. Simple Display
Similarly, decorative corner shelving units or display pedestals make it possible to turn a boring, empty corner space into a lovely, personalized focal point of the room. Anything from decorative jars to family photos that wouldn't hang well in the space, or even plants, flowers, books, or any other small or collectible items can easily be arranged on open shelves, offering a simple way to accessorize a room's decor without taking up much extra floor space.
4. Create A Sitting Area
Finding the right corner decor can be especially troublesome in larger spaces like a great room or large living room. If the positioning of the primary furniture (sofa set, entertainment center, game table, coffee table, etc.) leaves an empty area in the corner of the room a more complex solution is needed. For a mid-sized great room with a left over space that's too large to leave empty but too small to fully furnish, consider adding a single, outward-facing, high-backed accent chair and table. This creates a cozy reading nook for one (or two) that's slightly private and visually offset from the rest of the room.
5. Add A Game Table
For a larger space, that single chair can easily be upgraded to four, and the accent table to a game table, or even a small built in corner booth. Visually and spatially removed from the "main" area of the living room, this offset sitting space is perfect for dining, drinks, or board games. A built in chess board is great for a chess enthusiast, while a slightly larger table is ideally suited for playing cards.
6. Consider A Room Divider
Finally, if a corner is simply troublesome, it's not unreasonable to simply block it off with a decorative room divider. This works especially well if the room isn't quite large enough for any other kind of additional corner décor, but big enough for the corner to feel empty. A screen can round out and push in a too-large room while providing a beautifully patterned or colorful backdrop to the rest of the room's decor. Positioned well, it can even be difficult to tell how much (or little) of that unused space is partitioned off, camouflaging the true size of the room with a slightly exotic, old fashioned accent piece.
To see more of these tips in action, read the full article here.
HomeThangs.com is not only a home improvement superstore, it also provides expert design tips and a comprehensive shopping guide, taking the ideas from professional interior designers, and offering tips to the consumers on how to pick the products to best suit their needs.