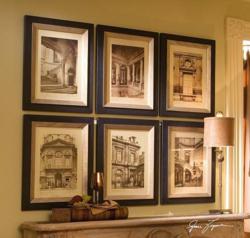 Choosing and hanging a single painting isn't complicated, but integrating one or more pieces of art into a larger decor can be.
(PRWEB) June 18, 2013
HomeThangs.com– the Online Home Improvement Store has made their goal to deliver the right product to the consumer. With that in mind, shopping and home design tips, as well as special product selections are being introduced.
The artwork in a home serves not only as decoration, but as a signature touch and expression of the owner's taste. If the counter top, floor, cabinets, and even paint are all (semi)permanent parts of the home, artwork offers the opportunity for a simple expression of self. That said, choosing artwork and how it should be hung isn't as simple as hanging a picture or two. HomeThangs.com has released a guide to choosing and hanging artwork to get a beautiful, designer effect.
Choosing and hanging a single painting isn't complicated, but integrating one or more pieces of art into a larger decor can be. Especially with one large, open wall, it can be difficult to know how to attractively dress the space. Large paintings will work, but sometimes a larger series of smaller, related paintings or photos can better set the tone for a room.
Similarly, collages can work well to take up a space anywhere from a few feet to a whole wall in size. Unlike prints in a series, collages aren't necessarily thematically related, and while photo series tend to use matching frames, a collage can equally be used to showcase frames of a variety of sizes, shapes, colors, and styles. This is an especially great layout for family photos.
Of course, everything that can be hung on the wall is necessarily "art". Simple bargain bin photo frames can hold old book covers, couture shopping bags, handkerchiefs, pressed leaves or flowers, or just about any object, and many antique signs and displays can find new life as retro art pieces. With the glass removed, even more exotic items can be "framed" – teacups, costume jewelery, seashells, or any other beautiful object worthy of display
In the same vein, not even all commonly accepted "art" is flat. In fact, tactile, sculpture-like wall hangings are becoming quite popular. From exotic carved wood panels to highly modern metal and wire sculpture, there's a huge variety of installation wall art that isn't simply limited to two-dimensional paintings and photos. Found objects are especially popular – like driftwood, old road signs decorative dishes, or even wall planters.
For large white walls that can't be painted, a very large format print or painting is an excellent way to compensate for the lack of color. A large enough piece can act as a sort of accent wall, helping personalize, for example, a rented space. Better still, the colors in a large format painting can be carried throughout the room, creating an inexpensive yet unified decor.
While not traditionally considered to be artwork, decorative mirrors add both style and functionality to a room. Regardless of their size, mirrors play nice visual tricks that can make a small room seem larger, reflect a key decor or architectural element, or, for a really large floor mirror, even create the appearance of an added room or doorway.
For more tips on how to arrange and hang artwork, read the full article here.
HomeThangs.com is not only a home improvement superstore, it also provides expert design tips and a comprehensive shopping guide, taking the ideas from professional interior designers, and offering tips to the consumers on how to pick the products to best suit their needs.