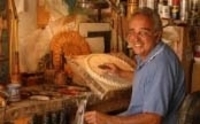 I love what I do! I love picking up a mallet or my knives and chisels and tackling a piece of wood to turn it into a carving
Miami, FL (PRWEB) February 10, 2009
Fans of Al Pisano have a good excuse these days to revisit the artist's online store, PiazzaPisano.com. The ecommerce site, which specializes in home decor and fun restaurant décor, has introduced a new line of Pisano's tables, Lazy Susans, wall plaques and other reproductions of Pisano's sculptures and wood carvings for sale.
Al Pisano is an award-winning dimensional artist who built a following during a long career creating commercial art in New York City. Pisano now creates and supervises the reproduction of his original artwork for Piazza Pisano from his studio in Miami.
"I love what I do! I love picking up a mallet or my knives and chisels and tackling a piece of wood to turn it into a carving," explains artist Al Pisano. "I also love working in plaster and clay. I started my career as an illustrator many years ago and after a trip to Italy felt inspired to try my hand creating dimensional art - and that is what I have been doing ever since."
Handcrafted, American-made products are prominent in the Piazza Pisano online store. Original artwork is created for a variety of decorating themes, including country home décor, French Country, vintage home decorating, Italian kitchen décor, and even nautical wood carving. All the reproductions from Pisano's plaster, clay and wood carvings for sale at Piazza Pisano are made by hand, to order.
"We enjoy making things, so we resisted having our artwork made offshore and instead closely supervise the production of our art here in our Miami location," says Kay Coulter, owner and founder of Country Carver Inc., exclusive distributor of Pisano's works. "Everything we do is hand cast and hand painted so we are really producing original artwork!
The production of each piece produced and sold at Piazza Pisano is supervised by Pisano. Despite that personal touch, Coulter says the products are affordable and come with a money-back guarantee.
The online store has extended the free shipping originally offered for holiday home décor shopping through March. Visitors to PiazzaPisano.com can also see Al Pisano at work creating his wood carvings for sale in a video posted to the Web site.
For more information about artist Al Pisano and the handcrafted home decorating styles available online, visit Piazza Pisano.
About Piazza Pisano:
Al Pisano is an award-winning dimensional artist who has had a long career as a commercial artist in New York City. Country Carver Inc., a decorative accessories company founded in 1992, is the distributor of Pisano's home decorating styles, available through the company's online handcrafted art stores, PiazzaPisano.com.
# # #