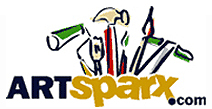 Menlo Park, CA (Vocus/PRWEB) March 02, 2011
In a time of tight budgets and mass-produced products, home crafts are as rewarding as they are fun. To help inspire the crafty, artSparx.com, a fast-growing Bay Area home decorating ideas site, provides tools and ideas to help users take home décor to a new a level of sophistication and creativity.
The site offers tips on DIY antiquing accent methods. Antiquing is the process of artificially aging a surface to produce a timeworn appearance. Many cherish these antiquated surfaces, prize the flaws, the chips and the cracks our grandmothers would have lamented.
There are many ways to antique objects, furniture, mural paintings and wall surfaces. They include paint effects, waxes, weathering, physical distressing and accent antiquing. The effects mimic the natural aging process by replicating such things as flyspecks and wormholes.
The four accent antiquing methods offered on Bay Area home decorating site artSparx.com help evoke the distinguished beauty of an antique.
First, a free step-by-step tutorial and color recipe called the artSparx 'Classic Antique Recipe', allows people to easily transform an ordinary piece of furniture into an almost magical object, evocative of a distant time and place.
Second, physical distressing, which is most commonly employed to antique furniture and objects, is controlled abuse applied to an object or furniture piece. Methods of physical distressing include the use of chains, hammers, nails and sandpaper, keeping in mind what would occur naturally to the piece over time. Creating slightly rounded corners, scuffed up legs and edges, worn handles, and dings and dents mimic the natural wear and tear of a piece over time.
Next, flyspecks and worm holes can add an authentically antique appearance to furniture. Flyspecks are the replication of the tiny specks left by fly droppings. Commonly seen on frames and furniture, flyspecks are created using the spattering technique and should be randomly applied over the entire object.
Wormholes simulate the holes that have been created by woodworms over time. Using a hammer and a small nail, holes are created by driving the nail randomly into the surface, then removing the nail. It is important to keep the nail holes shallow and pattern irregular.
Finally, weathering is the antiquing process that exposes the item or surface being treated to the natural elements. Driftwood is an example of the natural weathering process of wood exposed to salt water and air of the ocean. Methods like sanding, and pickling or bleaching can result in effective weathered appearances. Burying objects in the ground for periods of time is a common practice to weather objects.
In addition to antiquing techniques, the site explores subjects such as color mixing, gold leafing, decorative paint effects, faux painting, furniture renovation, stenciling, and more. Linking home design with artists, art techniques and creative ideas, artSparx.com is a unique, one stop design resource.
Recognized by Forbes Magazine as Best of the Web and one of the Top 10 Home Decorating Web Sites, artSparx.com includes features on design concepts, step-by-step tutorials on design techniques, resources for emerging artists, and more.
For more information about antiquing accent methods or any of artSparx.com's products or services, call them at (415) 675-1174 or view them on the web at http://www.artsparx.com.
About artSparx.com
artSparx.com is an eCommerce home improvement and lifestyle network of websites that specialize in home decorating ideas, faux painting, Tuscan style decorating, and products and services for the design, home craft and construction community. artSparx.com serves the San Francisco Bay Area and beyond.
###