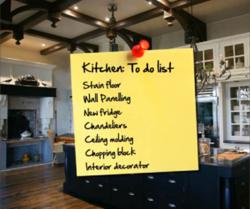 With our guide, we show consumers that the interior decorating process doesn't have to be a difficult one."
Montreal, QC (PRWEB) November 29, 2012
Following the recent launch of Decotheca.com and in the spirit of the holidays, the site is releasing a free 6 step planning guide aimed at simplifying the home interior decorating process. Perfect for those who are looking to find new home design ideas, this step by step guide literally walks the reader through the necessary steps to properly plan and complete their next home decoration project.
Available to all those who join the Decotheca community for free, users will receive a "holiday gift" in this must have guide aimed at relieving some of the pressure that consumers face when undergoing their interior design project. Not to be confused with a do-it-yourself manual, this guide focuses on helping consumers better define the requirements for their home decorating projects. This allows consumers to reach a higher level of preparedness when they meet their interior design professional, contractor or store representative.
"Finding the perfect home decorating ideas is never easy" says Diane Hallé, co-founder of Decotheca.com, "but when you've finally found that idea, making it a reality can be very complicated. With our guide, we show consumers that the interior decorating process doesn't have to be a difficult one." Once the consumer is on the same page as the professionals/suppliers they plan on using, home decorating can be simple, cost-effective and time-efficient.
In the quest for the perfect home, Decotheca offers a host of free tools to help consumers get inspired and make their dream home a reality, including an online gallery with home decoration photos, a content portal, a step-by-step guide, and a project management tool to help budgeting and keeping the interior design process organized. So whether they are dreaming about a home makeover, just researching or actually ready to begin, Decotheca recommends using a new free planning guide to help consumers plan their next home decoration project. So this holiday season, sign up to the Decotheca online community and get the guide that will open your eyes to the world of interior decorating. Happy Holidays!
About Decotheca.com
Decotheca is a one stop meeting place dedicated to home decoration where consumers get to discover interior design ideas, products, local professionals and stores. Decotheca is serving as a localized virtual "window-shopping" for home interior design and decoration. Given easy access to the sources of the photos that inspired them, consumers can then communicate directly with the source and evaluate if the products or services can assist them making their dream home a reality.