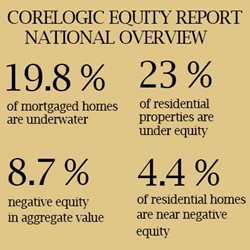 "During the past year, 1.7 million borrowers have regained positive equity. We expect the pent-up supply that falling negative equity releases will moderate price gains in many of the fast-appreciating markets this spring." ~ Dr. Mark Fleming, CoreLogic
Minneapolis, Minnesota (PRWEB) June 13, 2013
Approximately 850,000 more residential homeowners gained a state of positive equity during the first quarter of 2013, according to the CoreLogic first quarter home equity report. Pleased home sellers have sufficient equity to list their homes for sale. Pent-up housing supply is being released due to home price gains in many leading housing markets.
"We expected improvements in Twin Cities home equity this year, as the housing sector is in recovery, but the magnitude of the improvement has surpassed predictions and is brilliant news. Home sellers find they the needed equity to sell and move-up to a better home," says Jenna Thuening, owner of Home Destination.
CoreLogic analysis on homeowner affordability shows that 9.7 million, or 19.8 percent of all residential properties with a mortgage, were still in negative equity at the end of the first quarter of 2013. This shows much improvement in homeowner equity levels when compared to the 10.5 million, or 21.7 percent of all residential properties with a mortgage, at the end of 2012.
According to the report, the national aggregate value of negative home equity improved by dropping more than $50 billion to $580 billion at the end of the first quarter of 2013. That is 51 billion less than the $631 billion reported at the end of the fourth quarter of 2012. This decrease is credited in large by housing analysts to the significant improvement in home prices.
Of the 39 million residential properties with positive equity, 11.2 million have less than 20 percent equity. Borrowers with less than 20 percent equity, referred to as "under-equitied" may anticipate more challenges and a difficult time obtaining new financing for their homes due to underwriting constraints. At the end of the first quarter of 2013, 2.1 million residential properties had less than 5 percent equity, referred to as near-negative equity.
A resurgent housing market, rising home values and steady job gains are helping more Twin Cities homeowners make their monthly home payments on time and in full. "Rising home values make it easier for homeowners to refinance their mortgages or sell their homes if they wish to," comments Thuening. "It is great to see homeowners empowered to move their home equity into another home if they prefer to relocate."
"The impressive home price gains of 2012 and the beginning of 2013 have had a big impact on the distribution of residential home equity," said Dr. Mark Fleming, chief economist for CoreLogic. "During the past year, 1.7 million borrowers have regained positive equity. We expect the pent up supply that falling negative equity releases will moderate price gains in many of the fast-appreciating markets this spring."
How Minnesota Stacks Up In Home Equity According to the CoreLogic Report:

Minnesota has an average 69.1 percent loan to value ratio.
Positive equity share - 82.5 percent
Negative equity share (95 - 100%) - 17.5 percent
Near negative equity share - 5.2 percent
Negative equity share (95 - 100%) - 17.5 percent
Near negative equity share (100 - 105%) - 3.9 percent
Total mortgage property count - 642
The average amount of equity for all properties with a home mortgage stands at 32.8 percent, representing more than $4.2 billion nationally. Additionally, according to CoreLogic's findings, average loan-to-value ratio for all mortgaged homes is 67.2 percent.
"Twin Cities homeowners with increased home equity find it is a perfect time to buy a home. Today's homebuyers have sharpened their skills and know how to use a mortgage worksheet, get a home buyer's quote, and pre-qualify before attempting to buy a home. You have to come to the bidding table ready to have a good chance to gain the home you are bidding on. We are seeing higher numbers of multiple bid offers," says Thuening.
Home Destination helps Minneapolis area homeowners determine if it makes sense to sell their home now by determining positive home equity. Twin Cities home sellers are in the driver's seat today. If you are ready to sell a home in the Minneapolis area, or are preparing to buy a home in the next six months, call Jenna Thuening at 612-396-7832.