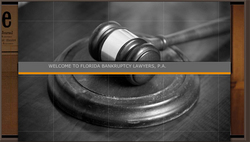 We have never seen such pain in our 35 years of representing clients.
Jupiter, FL (PRWEB) December 8, 2009
With a record number of foreclosures and bankruptcies across the nation and no end in sight, Henry Portner, local bankruptcy and foreclosure lawyer, reports, "We have never seen such pain in our 35 years of representing clients." He also reports that what they see in the trenches is contrary to what he has heard from the media and the government. In response, his law firm, specializing in foreclosure defense and debt management, is now providing a website to educate and serve consumers.
Consumerlawyersofamerica.com provides a wealth of information on deficiency judgments in Florida and other states, predatory lending practices, false claims made by the foreclosing party to keep consumers in the dark, and more information on bankruptcy, short sales, loan modification and other topics that can be confusing.
Executive director for the firm Alan Palange explains, "Most consumers have no sense of how to protect themselves and many times sit on the valuable rights they have. What surprises us the most is the reaction most consumers seem to take, which is to put their heads in the sand for as long as possible. While we can typically assist those who put off contacting us for home foreclosure help, we want to encourage consumers not to wait. We can be of even more help when clients come to us at the first sign of trouble."
A consumer driven organization, Consumer Lawyers of America is an organization of licensed attorneys, with many years of experience working with lenders in foreclosure defense.
Managing partner Henry Portner says that if consumers knew how many viable defenses they have, rather than being intimidated by their lenders, they would take swift legal action to protect themselves, their homes and their futures. He explains, "The banks, lenders and servicers are generally acting in bad faith when they deal with the consumer. For example, many times we'll hear from our clients that the lender said they should not be concerned about the home foreclosure as their file is in review and that an answer should be coming soon. The answer seems never to come, and all along the lender is moving forward with the foreclosure while the homeowner does nothing."
Portner also reports that many of these loans are deficient in ways that give a means for defense to the foreclosure action, and states that many times the lender cannot find the original promissory note, and if the note does surface, it does so along with issues with the assignments from one party to another being improperly executed.
Deficiency Judgments also seem greatly misunderstood, according to Portner and Palange. These attorneys and others in the organization have set up Consumerlawyersofamerica.com to make sure consumers know that lenders will get a deficiency judgment in most cases after a foreclosure and will chase down the consumer for years. With helpful resources and professional counsel, consumers can be aware of the harm that can be done when deficiency judgments are passed and, for example, personal garnishments begin. Such actions available to the judgment holder can mean long-term financial loss that could otherwise be addressed by competent foreclosure defense.
As a licensed law firm in six states (Florida, Georgia, New Jersey, Colorado, Pennsylvania and South Carolina) Consumer Lawyers of America, PA is well aware of what is happening and concerned about the future, with many foreclosures yet to be filed. Information and direct access to legal assistance is available at the ConsumerLawyersofAmerica.com website.
About Consumer Lawyers of America, PA:
A law firm licensed in six states; Florida, Georgia, South Carolina, Pennsylvania, New Jersey & Colorado, Consumer Lawyers of America PA specializes in foreclosure defense, bankruptcy, and debt settlement. The firm is a consumer driven organization that works to defend and protect the consumer. Henry Portner, Managing Partner, is a licensed attorney for 38 years and holds a Masters Degree in Taxation. He has served as an adjunct professor at Temple University in Philadelphia, PA. Henry Portner is admitted to U.S. District Court, U.S. Court of Appeals, U.S. Tax Court and U.S. Supreme Court. Consumer Lawyers of America is committed to standing up for consumers and small businesses fighting against powerful banks and large corporations.
###