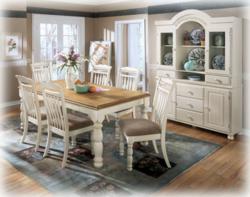 Panama City Beach, FL (PRWEB) February 21, 2013
Spring is well on its way, and Lindsey's Suite Deals Furniture has tips for updating interior décor for the quickly approaching season. Lindsey's Suite Deals Furniture is a Panama City Beach furniture store that focuses on high-quality customer service and offering the best selection of pieces in the area.
Lindsey's Suite Deals Furniture's tips work to bring in light and fresh air, and help to create new life for living spaces.
1. Take down heavy curtains. Instead, replace them with blinds that easily roll up and down for privacy. Hanging sheer curtains would work as well.
2. Add a mirror or rearrange an existing mirror. By doing this, the light will reflect off of the mirror to make the room brighter.
3. Rearrange furniture to maximize space and flow.
4. Put away winter items like blankets and heavy throws. For chillier nights, have a lighter colored throw to keep the room bright.
5. Bring the outdoors in. Place flowers in a few rooms to not only add life, but make the house smell good as well. If not flowers, plants will add the same effect.
6. Paint a feature wall. One wall painted a different color from the rest will add a new look to a room. Add art to that wall to compliment the new color.
About the company:
Lindsey's Suite Deals Furniture is a family owned and operated mattress store and furniture store. Located in Panama City Beach, FL they offer furniture from many manufacturers such as Ashley, Coaster, Southern Motion and many more. They also carry several brands of mattresses such as Therapedic, Easy Rest, and Ashley Bedding. Lindsey's also offers the ability to fully customize furniture- customers choose their style, fabric, and colors. From dining room sets, living room sets and furniture, to memory foam mattresses and bedroom pieces, Lindsey's can meet any major furniture need. Lindsey's Suite Deals Furniture is committed to providing high-quality service and customer satisfaction, they will do everything they can to meet their customers' furniture needs. For more information visit their website at http://www.lindseyssuitedealsfurniture.com.