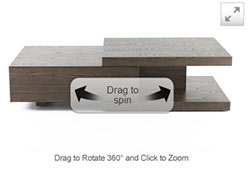 Online consumers are extremely savvy shoppers. They want to know they are getting a great deal on a great product.
Bayswater, VIC (PRWEB) January 11, 2013
A published report by IBM revealed Cyber Monday sales reached an all-time high topping the $1.5 billion mark. Online analytics company ComScore reported online sales reached a staggering $1.98 billion on the popular online shopping day. Because shoppers are using online retailers more than before, businesses have to differentiate themselves from the competition by improving the customer experience. Australian-based online furniture retailer Mojo Direct has launched the use of interactive 360° product images allowing their customers to view its catalogue of products from multiple angles – just as if they were viewing the product in person.
Mojo Direct hopes the use of these interactive images will improve their customer's experience, increase sales conversion and keep returns to a minimum. A study conducted by ecommerce company Stockshifters revealed online retailers have an average return rate of 22%-34%, which is a much higher rate than in-store purchases. The genesis of the problem seems to be customer dissatisfaction due to the product looking different in-person than it does on-line. While online sales are soaring, returns continue to cost companies billions of dollars each year.
"The downside of online shopping has always been the inability to view products up close or at various angles. We've solved that issue for our customers by integrating interactive 360° product images on our products enabling people to view items as if they were right in front of them. The technology also allow customers to zoom-in on products at any angle without affecting quality," said Matt Thomson, spokesperson for Mojo Direct.
Mojo Direct, along with other online retailers, believe that providing customers with quality images, videos and detailed descriptions reduces the uncertainty and nervousness consumers feel about spending their hard-earned dollars on a product they cannot tangibly feel.
Thomson goes on to say, "Online consumers are extremely savvy shoppers. They want to know they are getting a great deal on a great product. At Mojo Direct we have a policy called "know what you're buying." We go the extra mile up front by providing customers with 360° images, detailed descriptions, full specifications and downloadable manuals. Our images also work great on smartphones and tablets. It's more work up-front, but it improves the customer experience and cuts down on processing costly returns."
So as consumers flock to the internet to make purchases, online retailers would be wise to focus their efforts on improving website functionality involving product images and videos.
For more information please visit: http://www.mojodirect.com.au/
About Mojo Direct
Mojo Direct is an Australian-based online retailer specializing in quality lifestyle products including home office chairs, home furniture and décor. The organization was founded by brothers Matt and Jon Thomson in 2006 and quickly gained traction in the competitive home/office furniture and décor space. The firm's motto of "Quality Living Made Easy" is carried out through friendly service, quality products, easy online purchasing and lightning-fast distribution.